Commuters ride for free on Fairmount Line for two weeks
U.S. Rep. Michael Capuano pays riders' fares with campaign funds
Yawu Miller | 5/10/2017, 10:28 a.m.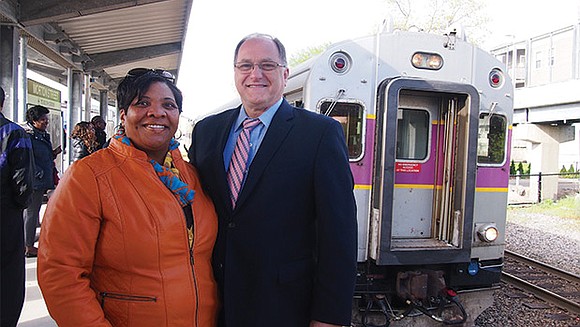 For years, activists along the Fairmount commuter rail line have advocated for increased service, arguing that the public transit-dependent populations in Roxbury, Dorchester, Mattapan and Hyde Park need better options to get to jobs along the long-underutilized rail line and in downtown Boston.
Two years ago, the Baker administration backed off of plans to make a $200 million investment in new trains for the line, citing low ridership and the high cost of the cars, which advocates said were necessary to increase frequency of service.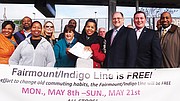 While activists and state officials have been struggling in a chicken-and-egg dilemma, U.S. Rep. Michael Capuano grew impatient. Monday, he joined local activists and state officials to kick off two weeks of free rides on the line, for which he will pay using his campaign account.
"I'm always pushing to expand the system," Capuano said, standing on the platform at the Morton Street stop. "I'm always afraid they'll cut services that are less used."
Ridership on the line has increased nearly threefold, from 800 per day in 2012 to 2,260 per day in 2016, according to a study released last month that was commissioned by The Boston Foundation. That study came as a surprise even to MBTA officials, who had undercounted the ridership. The T's method, counting passengers disembarking at South Station, failed to take into account the number of riders who get off before arriving downtown.
But all parties agree that ridership on the line is far lower than it could be.
Starts and stops
The Fairmount Line is the only non-rapid transit line that is entirely within the city of Boston, running from the Readville section of Hyde Park to South Station, with newly finished stops in Dorchester and the Newmarket business district and construction on a Mattapan Square stop due to begin within a month. The line cuts through a swath of Boston that has historically been underserved by rapid transit with the Red Line to the east and the Orange Line to the west. The buses that traverse those areas of Dorchester, Mattapan and Hyde Park are often crowded, bogged down in street traffic and behind schedule.
The new stops on the Fairmount Line were constructed as part of an agreement with the Conservation Law Foundation to mitigate the environmental impacts of the Big Dig highway construction project. For years the line ran through the predominantly black neighborhoods in Dorchester and Mattapan, but stopped only at Morton Street and Dudley Street.
During the administration of Governor Deval Patrick, advocates pushed for a fully-functioning rapid transit line with trains that run at intervals similar to Red Line or Orange Line trains and fares on par with those of other subway lines, which MBTA officials agreed would be called the Indigo Line. Because commuter rail trains are longer than subway cars and typically go farther between stops, they aren't well suited for rapid transit use. The Patrick administration committed $200 million for the purchase of smaller train sets that could accelerate and brake more quickly between stations. But the administration of Governor Charlie Baker withdrew that commitment.