Trainer's lifelong love for exercise translates into business success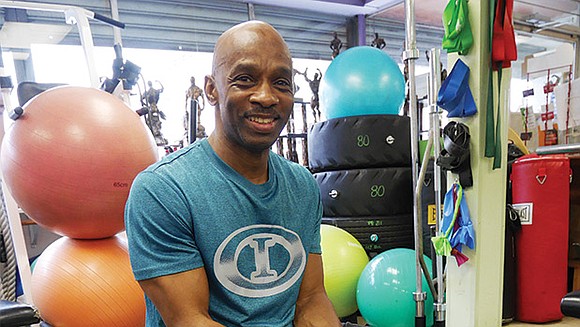 The 1600-square foot gym space appears small by some standards, but Sumrell feels it's what he needs.
"Most people are used to gyms being 'big boxes,' and people tend to measure success by square footage," he says, "but growth is measured by how the people are growing. And in terms of our boundares, we don't have any. We have outdoor space out back, and access to threee football fields." They also do offsite work with Simmons College, and in afterschool programs for Boston Public Schools.

He treasures his teaching role, but clearly, it's a tough love approach at times. He and his team expect IOFC trainees to put their full attention into the instruction, and are not happy when they fail to do so.
"We intentionally repeat exercises in cycles, in phases," Sumrell says. "If you come in and look at us like you never did this before, and you've done it 10 times already, you're going to get called into the principal's office because you're not retaining information. This is not adult daycare. You come in here, you're expected to learn."
It's all about love
Sumrell grew up "all over" as the child of a military family and studied chemistry and music at the College of Marin in northern California before coming to Boston at age 20. He worked for years a chemist at a DuPont pharmaceutical facility in Boston. While employed, he completed coursework to become an ACSM-certified trainer. He saved money, bought company stock, and took advantage of an early retirement buyout when he was just 35, which helped him finance his startup.
He credits his military stepfather with instilling strict attention to detail. Gesturing toward two young men on the training floor starting their day's session with Jordan, he explains, "Even a simple movement like they're doing right now ... We watch everything. While they're swinging their arms, we're looking at their middle trunk area to see what's happening, or not happening, with their bodies."
When he's not at IOFC, chances are Joe Sumrell is out playing music. A bass guitarist, he plays jazz, R & B, funk, reggae, and more with a number of bands around town, sometimes performing three or four gigs a week. He recently recorded a CD, "Selah Moments," with the band Day Seven.
If owning a business has its headaches, Sumrell doesn't show it. His is a business of relationships, and he sees each relationship as a "circle of love" with a give-and-receive process, he says, that injects life into both his trainees and himself.
"The thing that overrides all of this — and it sounds corny — is love. I love people, and I love to see people progress. Is it trying at times? Yes. But I'm in that place — a bubble of peace. I'm going to enjoy this life while I have it, and enjoy the people around me. And hopefully that rubs off on others."