A Parisian feast
Saying 'au revoir' to the City of Light
By Charlene Peters, More Content Now | 3/31/2017, 6 a.m.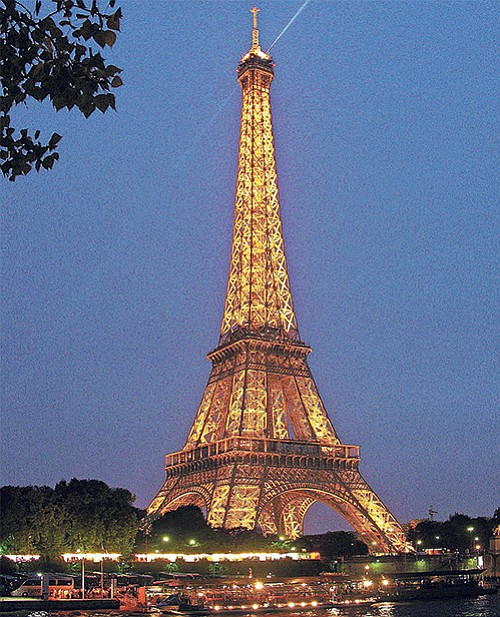 Also on my short list of "must do's" before leaving Paris was a chocolate tour in St. Germain des Prés — a gastronomic feast for the senses, beginning with a taste of pistachio imported from Iran, followed by vanilla from Madagascar and ethereal chocolate made in Venezuela. I also sampled Kouign Amann cake, with its crispy interior and rich caramel topping.
With the departure clock ticking, I took a final peek inside the cathedral of Notre Dame and Sainte-Chapelle in Ile de la Cité before lunch at Au Bougnat, which will which will be a must-stop for any future visits.
Octopus & Vegetable a la Plancha and Chickpeas with Smoked Paprika
Serves 4
4 cups chickpeas
1 onion
1 carrot
½ tsp. smoked paprika
¾ cup olive oil
5 pounds frozen octopus
½ tsp. agar-agar (algae gelatin)
1 bunch baby carrots
1 bunch green asparagus
8 baby turnips
2 leeks
Chives
Soak the chickpeas the day before in some warm water. Once they have been soaked, start cooking them in some warm water with the onion and carrot for 2 hours and 30 minutes over medium heat (or 25 minutes in a pressure cooker).
Once cooked, strain them, then blitz them with some paprika and olive oil to produce a smooth cream. Season with salt and pepper.
Wash the octopus under running water. Cook in boiling water for 45 minutes. Once cooked, remove from water and cool. Keep a liter of the cooking liquid and add the agar-agar.
Bring the liquid and agar-agar to boil for 2 minutes, and then cool down in the fridge.
For the vegetables a la plancha (cooked on a griddle), wash, peel and cook the baby carrots, asparagus, turnips and leeks separately.
Take 4 deep plates and add some jelly. Place the plates in the oven at 150°F. While the plates warm, cook the octopus legs and the vegetables in a frying pan or ideally, à la plancha.
Cut the octopus in large pieces, warm up the chickpeas and place in the center of the plate. Add the vegetables and then the octopus before dusting with smoked paprika powder and chives. Drizzle with some olive oil to finish the dish.
— Courtesy Le Miroir, Meliã Paris La Défense