Lower Mills optical shop offers full service and a relaxed vibe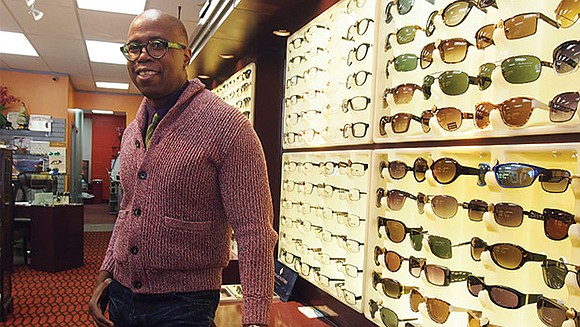 Bobin estimates that between running the shop and playing musical gigs three to five times a week with his band, the Conscious Reggae Band, he puts in 70 or 80 hours — but much of it is a labor of love.
"The greatest thing about being in my own business and playing music is, I don't think of it as work," he says.
It's the necessary business tasks for both the shop and the band that occasionally temper the creative joy.
"Fitting glasses is art, that's love — and playing music is the same. But maintaining a business with a high standard of care is work," he says.
He was introduced to ophthalmologist Dr. Chester Zarnoch early on, and the two have worked together at Eye & Eye from the start. Nicholson savors his own role as the artist who helps identify each customer's best style and the face and voice welcoming the shop's visitors and callers.
Developing Eye & Eye's look and feel was something of a family affair. Nicholson's wife Ayesha designed the shop's logo and interior, working to add musical touches to the decor. His 27-year-old son Tariq, who is also Conscious Reggae Band's keyboardist and musical director, contributed an acoustic bass to the shop. And it was Ayesha's suggestion to name the shop "Eye & Eye," he says, a spin on the Rastafari expression "I and I" that implies "we are all one people."
Success and reinvestment
Seven years in, the quality ethic and love seem to be paying off. Eye & Eye Optics has won accolades including Best Eyewear Boutique from Boston's A-List and recognition by Facebook and Yelp as a top-rated (five-star) business. Though Nicholson has tried various types of advertising, 70 percent of his new customers come via the best possible publicity: word-of-mouth referrals.
He continues to invest in the business, recently replacing his exam set-up and lens edger with new, up-to-date equipment.
"You feed the business the right things that you need to, to get better," he says. "I put my all into this. Five-star [recognition] tells me I'm doing what I'm supposed to do, but I can't rely on that. I have to figure out how to get better every single day."