'Precious Little' combines drama and droll humor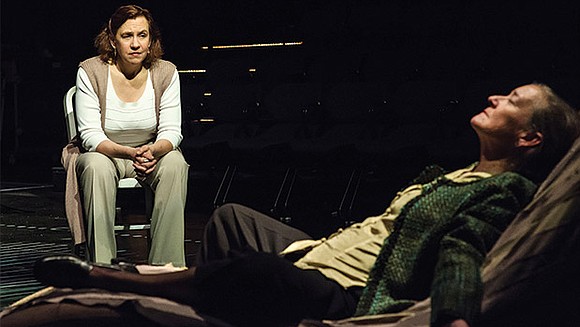 Life disrupts the best of plans. Take Brodie, the 40-ish linguistics professor who is the central character in Madeleine George's play "Precious Little," on stage through March 26 at Central Square Theater in Cambridge.
She has become pregnant with the carefully chosen sperm of a "vigorous-sounding" engineering student. But recognizing the risks of pregnancy at her age, she undergoes genetic testing, planning to go forward or not based on the outcome. Yet when she learns that her unborn child may be developmentally disabled, she finds that her life is taking a more challenging turn.

Madeleine George's beautifully written play combines droll humor and drama as it follows Brodie into new, uncharted terrain of the heart. Running 80 minutes with no intermission, the play unfolds with the economy of a poem.
Directed by Melia Bensussen, the Nora Theatre Company production is true to the unadorned poetry and wisdom of the play. Faithful to the playwright's notes, its spare staging uses few props and three actors perform all the parts, an assortment of female characters that Brodie interacts with at a medical clinic, in her office and at a zoo.
Intimate setting
Judy Gailen's sets capitalize on the theater's intimate scale. The audience sits on three sides of the performance space. On one end, a partition serves as an examination room curtain, a display screen for delicate ultrasound images and a partition separating zoo animals from human observers. Nearby, a recliner doubles as a log. On the opposite end of the space is a table with two chairs. A notebook and pen are on the table. The floor is curiously marked with units of measure as well as hallucinatory lines that echo sonogram imaging, as if to suggest the mingling of data and dreams. Lighting by Wen-Ling Liao highlights the actors' expressive faces and shifts of scene and atmosphere. Nathan Leigh's evocative palette of sounds includes the bleats of jungle animals, a pulsing heartbeat and wafts of gentle instrumental music.

Costume designer Elizabeth Rocha outfits young characters in muted everyday wear and matches the mature females with attire that suits their roles — from a plain housedress to a Chanel jacket.
Talented cast
The cast presents a rich cross-section of generations, with the incandescent Nancy E. Carroll and astonishing Karoline Xu playing multiple parts, and Lee Mikeska Gardner, artistic director of the Nora Theatre Company, in a self-effacing performance as Brodie.
Xu, a Harvard senior, is a joy to watch as, with her formidable gifts, she dissolves into her roles. Using her face, body and voice she morphs into a multitude of characters with great precision and split-second timing. Even more of a minimalist is Carroll, who, with her seasoned prowess, conjures three very different characters, using her voice and eyes to convey magnificent empathy, wisdom and vulnerability as well as the aloof serenity of a gorilla. Complementing these two virtuosos, Gardner is low-key but convincing as Brodie. When called for, she gives her complicated character a light comic touch and later, a softer presence. The playwright pokes fun at characters who talk a lot but communicate little, and at times that includes Brodie.