Report details racially disparate suspension rates in Massachusetts
Lost instructional time is achievement barrier; charters, alternative schools top suspenders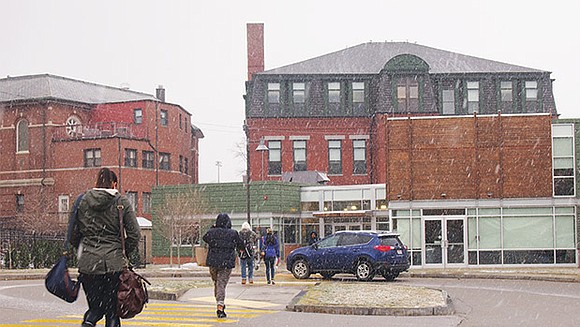 Alternative schools are those designed to serve needs not met in traditional school environments, including behavior problems.
"Some people think, 'Oh, well of course those schools would suspend more students,'" Losen said in a Banner phone interview. "But you have to realize that these are schools set up, at least in theory, to address the kids with behavioral issues. They should have the personnel and adequate staff to help those kids stay in school more and shouldn't have, in some cases, incredibly high suspension rates. It's not a good use of our tax dollars if their primary response for minor misbehaviors is to kick the kids out of school. We don't want any kids unsupervised, on the streets, especially because of minor misbehaviors."
Along with alternative schools five charter schools stood out for the highest suspension rates, including three in Boston: UP Academy Boston, City on a Hill in Dudley and City on a Hill at Circuit Street.
The Boston area school with the highest racial disparity in suspensions was Dorchester's UP Academy Boston charter school — it also has the third largest disparity statewide. During the 2015 to 2016 school year, for black pupils, there were 194 missed days of instruction per 100 students; meanwhile, among white students, there were only 41 days of missed instruction per 100 students, representing a 154-day gap.
Also listed with notable racial suspension disparities were Boston's Clarence R. Edwards Middle School, with a difference of 76 more days lost by black students per 100 black students than lost by white students per 100 white students; Lila G. Frederick Middle School (75 days more); Lyon Upper 9-12 (75 days more), Madison Park High (74 days more), and Brooke Charter School Mattapan (71 days more). Losen said additional high rates are at the Dever (71 days more) and UP Academy Holland (64 days more).
Only schools with populations of at least 100 students, including at least 10 white students and at least 10 black students, were considered for the racial gap analysis.
The report said that across the state, one strong driver of high suspension rates appeared to be principal perspectives on discipline. Schools with principals who responded on a statewide survey said that they regard strict discipline as a necessary punishment response and blame parents and children for problematic behavior had high suspension rates compared to those whose principals who regarded discipline not as retribution, but rather as a method for teaching student what is appropriate behavior.
Action
To ensure the report's information is acted on, Losen calls for the state Department of Education to require schools to include on their accountability reports the number of days of instruction students missed due to discipline.