Natural skincare in Jamaica Plain
Entrepreneur takes a DIY approach to building a business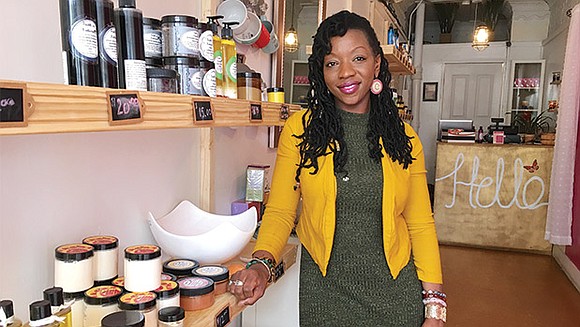 She also hit the pavement, visiting local stores to see if they would carry her products. She was able to rent a little shelf space in two local stores, but the space within other people's stores wasn't sufficient to display all the items people wanted.
Last August she took two weeks off from her job to see what would happen if she had more time to devote to Faith's Naturals.
"I was going to do it from home. There was no idea of a shop in my mind," she says.
After two energizing weeks, she returned to work, and two days later decided she was ready to quit the job and make a go of her own business.
A realtor friend persuaded her to look around at some possible store locations. The space at 66A South Street, nestled in a stretch of small businesses from bike shop to bakery, stole Scarlett's heart.
"It looked so small from the outside," she recalls, "but when I came in it felt so good. It felt like home."
End, beginning
Her last day at her job was also the day she signed a lease for the shop. A former art gallery, the space had a lot of features ready to go, including the white walls and ceiling. Scarlett's husband installed the shelves. She made curtains. She bought a cash register and a computer and stocked the shelves. The Faith's Naturals store opened for business Oct. 15.
It feels great to be her own boss and she enjoys making customers happy with her products, she says, though would-be entrepreneurs should take note that opening a business has meant trading 40 hours for 80. She is in the store every hour it's open, six days a week, and when she's not there, she's making and bottling more inventory. She creates the products in her Dorchester home, often working into late-night hours.
"It's my passion," she says. "Once I get started, it's hard to stop."
Scarlett has taken a do-it-yourself approach to other facets of her business, too. She has not taken out any business loans, relying on product sales to pay the rent. The labels on her bottles and jars are her own design, printed from her computer, sometimes with the help of one of her children. She also sells Faith's Naturals wares through an online store that she designed and built herself.
"When I have to do something, I find a way," she says. "I just figure it out."
Planning for the future
Just months into owning a brick-and-mortar store, it may be hard to keep an eye on the future, but Scarlett is thinking ahead to hiring a part-time sales assistant. Other plans include offering in-shop facials at some point, which would require hiring an esthetician, and starting a catalog sales operation that could help other people get involved as sales representatives.
Scarlett is feeling fine about her hair these days, and has even authored a children's book called "My Locs and Me" about a girl happy with her black and shining locked hair, a style the author herself now sports.
When in doubt, she says, she keeps her grandmother's words in mind.
"She always told me, 'Do your best, and go with your passion.'"