Natural skincare in Jamaica Plain
Entrepreneur takes a DIY approach to building a business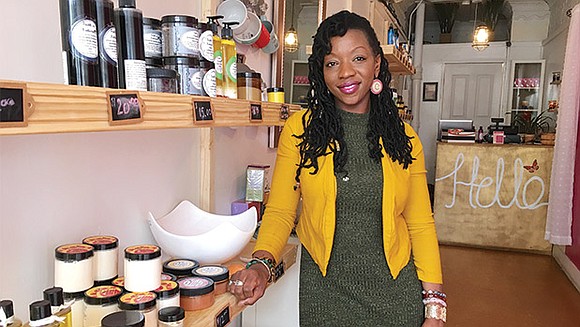 Inside a tiny storefront on Jamaica Plain's South Street, the light-filled interior of Faith's Naturals feels surprisingly spacious. White walls, a high white tin-paneled ceiling and light-toned wood shelves, coupled with a few deep-pink accents, create an inviting look to the narrow space.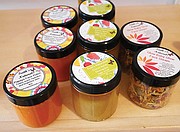 Neatly arranged on the shelves are jars and bottles of face and body scrubs, oils, soaps and hair care products, all handmade by owner Faithlyn Scarlett with plant-based ingredients such as flaxseed extract, arrow root powder, aloe vera gel extract, coconut oil, honey, lemon juice and crushed oats.
"These products are geared toward your overall wellness," says Scarlett, a Dorchester resident who came from Jamaica to Boston at age 10. "It's not just pretty, it helps solve an issue. Eczema, alopecia, hair that's thinning, I have products to help with that."
Her customers come from every culture and every age group, she says, male and female and from all age groups.
"More people are into taking care of their bodies. [But] even if you're eating healthy, the chemicals in your beauty products go in your skin. It's always better to go natural and organic, and that's what we provide," she says.
On a recent Sunday afternoon, Herby Toussaint of Dorchester, a repeat customer, drops by with his 27-year-old daughter Roshni. While Scarlett helps Roshni find the right skin care product, Toussaint says he's been buying Faith's Naturals for his own skin since he heard about the store on local radio station 101.3 FM, where Scarlett advertises and has appeared on Tayla Andre's "Wake Up With Tayla" call-in show.
The father and daughter leave with a bundle of soaps and some tea – "the basics," Toussaint says.
Scarlett's affinity for devising effective products was born of necessity. Besides having a lifetime of hair issues, the 36-year-old says, childhood chicken pox left her skin scarred. As a young adult, she succeeded in creating some concoctions to calm her hair and improve her skin.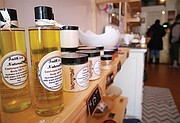 Home remedy
More recently, she witnessed the youngest of her four children, now 4, struggling with eczema. One day, after a particularly severe flare-up had rendered Scarlett herself crying in desperation in the pediatrician's office, she sprang into action. Upon arriving home, she tried a new body butter mixture and applied it to her son's skin. It soothed his itching that night and in a short time, she noticed his skin condition improved.
"I remember hearing this voice telling me, 'You should sell it,'" she says, "but I answered back 'How can I do that? I don't know anybody!'"
That was two years ago.
A week later, she was driving when the voice came again, this time clearly telling her to go ahead and do it.
"It sounded like someone was in the vehicle with me. They just screamed, 'Now!'" she recalls.
At that time, she was working full time job as a patient account representative at a local hospital. She brought samples in to work and mentioned she was starting something called Faith's Naturals. Soon, she was selling her products to her co-workers and at events that had vendor spaces.