Boston's Day Without a Woman focuses on economics
Boston women call for better wages, immigrant rights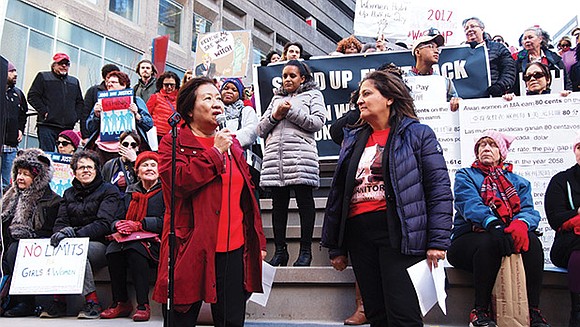 Jianhua Tang was a teacher in China before emigrating for the U.S., where she found employment in an electronics factory and as a homecare worker. She called attention to the gap between average earnings in Chinatown and the rents, as well as the gender wage gap that limits further women's ability to fight displacement. One driver of income inequality in her community is that women are predominately employed in caretaker positions, where wages tend to be low, she said.
"As caretakers, they're very important to our society," Jianhua Tang said, "but their wages are often the lowest."
Several protestors also noted that protecting the rights of immigrants is integral to bringing greater economic stability to domestic workers and caretakers, given the high representation of immigrant women in the roles.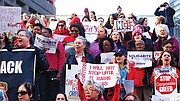 Racial wage gaps
The gender wage gap has been well documented. Last year, the Boston Women's Workforce Council released a report stating that even though Boston's population is majority female, local women earn roughly 77 cents on the dollar compared to men.
Racial disparities amplify this. In Massachusetts, black women earn 61 cents for every dollar a man earns, and Latina women earn 50 cents on the dollar, according to information presented in 2015 by the state Black and Latino Legislative Caucus and the state Caucus of Women Legislators
Speakers at the 2015 event attributed the wage gap in part due to unconscious bias in hiring and promotion, as well as various factors that can push people into traditionally lower-wage jobs. These include barriers to attending higher education, such as tuition costs and time demands.
Trump effect
While many issues are long-running, the election of Donald Trump has heightened alarm. Speaking before the event, demonstrator Herbert Jean-Baptiste, an 1199SEIU worker, said the presidential election campaign season revealed pervasive misogyny.
One example: "Hillary Clinton got attacked for her looks," he said.
"Women have lost ground" with the election of a misogynist president, said Natalicia Tracy, executive director of Brazilian Worker Center.