Boston's Day Without a Woman focuses on economics
Boston women call for better wages, immigrant rights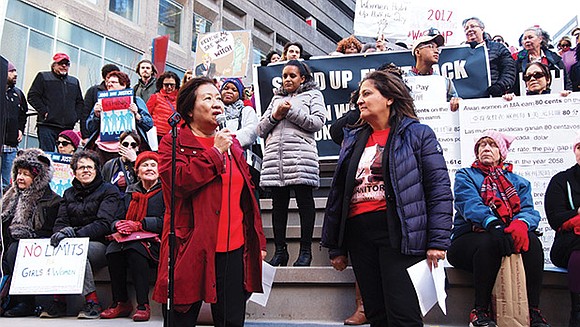 Women filled the risers in Downtown Crossing and spilled out into the surrounding plaza during last week's A Day Without A Woman demonstration. During March 8, many women who were able to took off from work and avoided making purchases in an effort designed to underscore the economic significance of half the population. Some businesses closed, while others donated portions of the day's sales to charity.
Unlike some other protests' sweeping messages, Boston's A Day Without A Woman rally focused on concrete goals for improving women's economic survival and quality of life. Goals included ending the gender wage gap, maintaining housing at rents affordable to current city residents and securing access to affordable child care, said Suzanne Lee, president emeritus of the Chinese Progressive Association and one of the event managers.
"We wanted this to be mainly for working women — you see a crowd that's very different from the Women's March," Lee told the Banner. "A lot of time working women feel like their issues don't get addressed."
The rally featured a racially and nationally diverse list of speakers, including union and immigrant rights group members, as well as an elected official, with City Councilor Annissa Essaibi-George taking the mic following a speech from Logan airport wheelchair attendant Davail Gethers. The broad array of backgrounds was part of the rally's success, said 32BJ SEIU vice president Roxana Rivera, who helped run the event.
"What was most important today was that you saw so many people from different sectors coming together. Childcare workers, teachers, elected officials, coming together to speak up for the rights of women and bettering our communities," Rivera said.
Nationwide
Many demonstrators turned out in red jackets or pink hats to symbolize solidarity. Boston's event was one of many taking place nationwide on International Women's Day. The national organizing group said the day's mission was to highlight, among other causes, the economic significance of women as well as the discrimination many women and female-identifying individuals face.
They sought to draw attention to issue areas such as the persistent gender wage gap — which is even wider for black and Latina women — as well as sexual and gender-based harassment and the need for universal provision of certain workplace protections, such as access to sick care and affordable child care. Other calls included access to medically-accurate sex education and the need for making certain health care services such as birth control and abortion universally accessible and affordable.
Workers' needs
In the downtown Boston rally, immigrant rights and economic equality took top focus, with many demanding greater respect and better pay for jobs frequently held by immigrant women.
"Domestic work often goes unrecognized," said Claudia, of the Matahari Women Workers' Center, who asked that her last name not be used. "We do the work that makes other work possible."
Caretakers often may spend twelve hours a day looking after others' loved ones and homes, said Claudia, who works as a nanny and Colombian immigrant. Rose Pierre, a nursing home worker and 1199SEIU member originally from Haiti, said she works two jobs to make ends meet and support her children.