Report charts persistent inequities in Greater Boston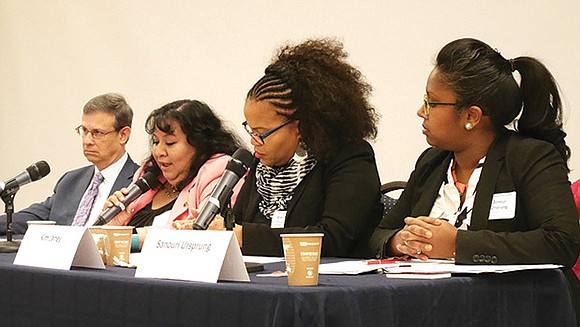 Some suggestions were offered by panelists and attendees at last week's event.
Panelist Jeanette Huezo, executive director of United for a Fair Economy and co-author of a recent report on race-based economic inequalities, recommends changes to Massachusetts business and income tax structure, including raising corporate taxes and passing the Fair Share Amendment to add a tax surcharge on incomes over $1 million that would go a long way toward funding remedies.
"They say there is no money. But the tax structure in our state is wrong," said Huezo. "The money is there. We can fund programs. It's time to make public servants accountable."
As immediate actions, Huezo urged attendees and officials to support sanctuary cities for the protection and well-being of immigrants and to support the Jim Brooks Community Stabilization Act, a tenant protection measure proposed by Mayor Martin Walsh that will need state lawmaker approval after passage by the city council.
Sanouri Ursprung, acting director of the Office of Statistics and Evaluation at the Massachusetts Department of Public Health and also on the panel, cited the past campaign to reduce tobacco use as a model for improving public health.
"With tobacco, we galvanized several generations [to take action]," she said. "But that took years of culture change."
Today's pressing public health issues include obesity, diabetes and hypertension. Tackling them will require not only motivating people to make individual choices, Ursprung said, but also scrutinizing the policy decisions that now contribute to poor health, such as food subsidies that make unhealthy food cheaper and policies that allow 'food deserts' or lack of access to safe outdoor activity to persist.
Trina Jackson, community engagement practice leader at Third Sector New England, suggested stronger efforts to support problem-solving and leadership by those directly impacted by the inequities revealed in the report. She cited land trusts and worker-owned cooperatives as valuable community-led solutions.
"People do have a lot of thoughts about what the solutions are," she said during the discussion period, "but we don't engage them enough. We tend to see them as passively dealing with issues and not having the knowledge and wisdom to help change things."