'Grand Concourse' characters embody the human condition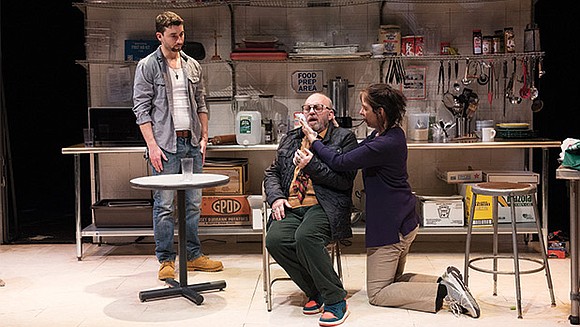 Each character is burdened with a dilemma and each speaks of unseen characters — for Shelley, they include God, her adored cat Pumpkin, the stone-hurling kids outside her door, the young nuns in habits who play basketball nearby (she was a star point guard in high school) and the guests who line up each day for soup.

Melinda Lopez renders the sturdy kindness and weariness of Shelley, who wears street clothing rather than a habit and conducts her kitchen ministry with devotion and cheerless efficiency. Her faith waivers, particularly her faith in her vocation.

Alejandro Simoes is utterly natural and endearing as Oscar, Shelley's exuberant and charming antidote. Back in the Dominican Republic, Oscar studied dentistry. Here he is a security guard, working his way through community college. He speaks of his intended wife, Rosa, who makes him his favorite lunch, roast beef sandwiches, and aspires to a better job so he can propose to her.
Frog advises Oscar not to wait because, "in the 21st century, men and women they support each other." As Frog, Thomas Derrah mines the heft and street-worn radiance of his character, a man who camps outside the church and peddles his booklets of unfunny jokes. When he is not suffering psychotic delusions, Frog speaks with dark wisdom. Reflecting on a planet in which "everything is alive," Frog says, "You can either decide that you are a predator…or you can starve to death."

When Frog applies for a job as a receptionist at a shelter for the mentally ill — wryly noting his sound qualifications for the role — Chelsea Kerl's costumes deftly accent his transition. At first clad in a soiled rugby shirt and camouflage pants, a freshly showered Frog reappears in job-ready attire, including a camel-colored cardigan and tie. He credits his change in luck to Emma, who found him the job as well as a bed in the shelter.
As Emma, Ally Dawson embodies her complicated character, who is a bit icky from the start. She arrives with an elaborate backstory and hints of an abusive mother, and, when Shelley leaves, shows off her arsenal of Sephora cosmetics to the susceptible Oscar. After entangling him, she confesses, "Everything feels so out of my control…I'm sort of following my impulses."

Emma helps Frog, works hard in the kitchen and upgrades the house porridge with the flavors of eggplants and fennel. With equal energy, she earns and betrays the trust of others.

With its flawed, aspiring characters, the soup kitchen crew is a convincing stand-in for humankind. Shelley prevails, fulfilling her ministry as it takes an unexpected turn and showing us how, as flawed as we are, we can be instruments of grace for one another.