Advocates call for more affordable public higher education
Amy Blanchette was scraping by, relying on soup kitchens and a $9 per hour wage from a curtain store to keep her and her son going. She had escaped an abusive marriage and weathered a period of homelessness, and now struggled to get out of bare-survival mode. Wanting a better life for her son and to end their reliance on public services, she applied to Bristol Community College.
Now she's slated to transfer to University of Massachusetts-Dartmouth and intends to continue on to a Ph.D., with the goal of teaching English at a community college. She's hoping she can afford it.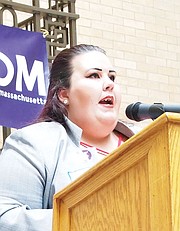 Blanchette was one of many lifted up by public higher education and weighed down by the price tag that comes with it who shared stories during Public Higher Education Network of Massachusetts's (PHENOM) annual advocacy day at the State House last week.
"Education…was everything. It felt like I was given a second chance to succeed at life," Blanchette said. "When you're living in poverty — you're just surviving, that's it. There isn't hope or room for much else. All you need is someone who believes in you, and, to be honest, some financial aid."
While public institutions are intended to make degrees accessible to those without the means to spend tens of thousands in private school tuition, current and former students, economic analysts and education activists say that Massachusetts' public institutions are increasingly unaffordable. Since 2001, the state has cut financial support for its higher ed institutions. At the same time, enrollment has been growing, exacerbating the per-student reduction. The impact is that per-student funds are slashed by 31 percent, or about $3,000 per student, according to PHENOM.
Many institutions have passed some of the costs onto students. As such, many students leave burdened by five-figure debt and/or work multiple jobs while enrolled to make ends meet. A MassBudget report found that the number of students taking out loans in order to attend four-year public college in the state increased by 39 percent since 2001 and their cumulative amount of debt was 55 percent higher.
For Blanchette, affording college means working four jobs — three at Bristol and one as a research analyst for MIT and YMCA Southcoast. Because she cannot afford a babysitter, her twelve-year-old son hangs out at college clubs or classes after school and during school vacations. Some days she leaves home at 7:30 a.m. and does not return until 9 p.m., she said.
It became clear from stories shared at PHENOM's advocacy event that she was far from alone. Among the speakers was Erika Civitarese, a senior communications student at U-Mass Amherst. Civitarese said she has worked 25 hours per week since she was 15, received scholarships, work-study and Pell grants, yet still expects to graduate with $30,000 in student loan debt. Civitarese says she does not know how her family will be able to pay it off or afford her younger sister's education.
State Rep. Natalie Higgins, who attended graduate school at a private instituion after attending UMass, spoke of how her own student debt shapes her life choices.