Cocoa pronto: Late-night sweet tooth leads to chocolate hack
Ari LeVaux, Flash in the Pan | 3/3/2017, 6 a.m.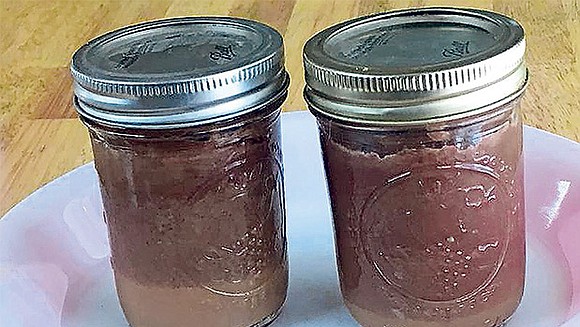 Whether or not I had his respect, I knew that Willenbrock would have some pointers in my pursuit of chocolate hackiness. He did not disappoint.
After thinking for a moment, he uttered three words:
Sweetened. Condensed. Milk.
Beyond using it for my paste, Willenbrock mused there might be opportunity to use that trick where you boil or pressure-cook a can of sweetened condensed milk until it turns into the caramel-like dulce de leche.
He also suggested playing around with baking chocolate in my hacks. It would have cocoa butter, which would by definition make it better. And he encouraged even more creativity than I'd advocated. Some garam masala spice mix, perhaps, or the tiniest drop of lavender oil.
But really, he had me at sweetened condensed milk. I brought a few cans home, took out my Instant Pot electric pressure cooker and continued my research, invigorated. The path wasn't straight. There were dead ends. But I ended up in a very good place. Here is how to get there.
Take one can of sweetened condensed milk. Pour it into two Mason-style 8-ounce jars.
For the cocoa version, stir in two heaping tablespoons of powder until it's basically a two-ingredient paste. Fill the jar the rest of the way with (drinkable) coffee. Secure lids.
Or, if you want to take a more Willenbrock-esque path, mince two squares of baking chocolate. Stir in the pieces, and fill the jar the rest of the way with coffee.
Pressure-cook jars for 30 minutes, or simmer them for 2 to 3 hours. Put a rag on the bottom of the pot so the glass jars don't rattle and break.
The version with cocoa powder, coffee and condensed milk turned into something of a two-layered pot-de-crème. The top layer was cheesecake brownie, thick and moist. Below, dulce de leche.
When I removed the jar with baking chocolate from the hot water, I noticed that it had failed to stay mixed. So, using oven pads on the still-hot jar, I unscrewed the lid and gave it a good stir. The result: dulce de leche, with floating confetti-sized bits of un-mixed chocolate that you can't in the least bit tell are not sweetened.
Both versions: mind-bogglingly awesome, and extra decadent.
Ari LeVaux writes Flash in the Pan, a syndicated weekly food column that's appeared in more than 50 newspapers in 25 states. Ari lives can be reached at flash@flashinthepan.net.