Panel convenes on criminal justice reform bill, report and next steps
State legislative, judiciary members talk fees, mandatory minimums, race data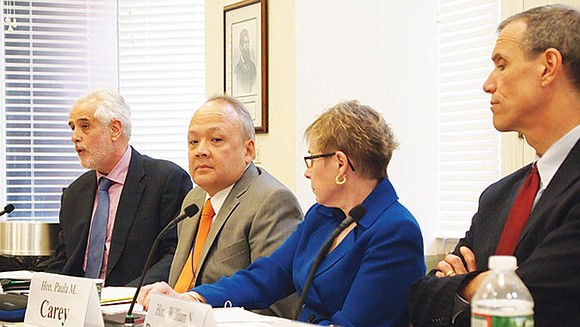 The day after Governor Charlie Baker filed a bill taking up the Council of State Governments' recommendations on curbing recidivism, the Boston Bar Association gathered a panel of state judicial and legislative members to discuss the CSG report, what's missing from Baker's bill and where to go next.
Moderated by Dean Andrew Mazzone from the state attorney general's office, the panel included Sen. William Brownsberger; state Rep. John Fernandes; Paula Carey, chief justice of the state Trial Court; Randy Gioia, deputy chief counsel of the public defender division of the state's Committee for Public Counsel Services; Jack Lu, Massachusetts Superior Court associate justice and Sentencing Commission chair; Michael O'Keefe, Cape and Island district attorney; and Lon Povich, the governor's chief legal counsel.
Baker's bill
The governor's bill seeks to encourage participation in programs aimed at preparing incarcerated or recently released individuals for reentry into society. The bill would allow those on parole to earn time off of their supervision and for those incarcerated under certain mandatory minimum sentences to earn "good time" (e.g., time deducted from a prisoner's sentence for good behavior). The bill also permits good time to be earned from programs with shorter durations.
Missing pieces
Many activists have raised alarm over the CSG's failure to address racial disparities or the sources of initial incarceration. Several panelists said a wider scope would have been too unwieldy but that now is the time for filing bills that follow up where the CSG report and governor's bill left off.
Among items legislators have proposed: ending mandatory minimums for nonviolent drug offenses, expunging juvenile criminal records, allowing one to be considered "juvenile" until age 21 and setting bail based on the accused's flight risk and level of public safety threat, not financial ability.
Several panelists spoke of modernizing the state's sentencing guidelines, which were published first in the 1990s. For instance, Gioia said, best practices research since then reveals that shorter probation periods can be equally effective.
Brownsberger and Povich said collateral consequences on incarceration, such as fines, fees and lingering public criminal records, create burdens and barriers to successful reentry and need to be addressed legislatively.
Calvin Feliciano, a criminal justice reform activist who was incarcerated in his youth, recalled during a Banner phone interview that he once turned to selling drugs post-release in order to afford probation fees and court fees. If he missed payment, he could have been returned to jail.
Returning to the workforce after years of absence is hard enough, without fees and trips to probation officer meetings placing an additional burden, Feliciano said. Job placement and training programs can help, he said, as can reforming the fines system.

Feliciano also said that he knows others who have participated in a "fine time" program in which they voluntarily incarcerate themselves in order to earn daily credit toward fees. In 2016, The Boston Globe reported a sampling of statewide cases revealed more than 100 instances of fine time jailing, under which participants earned $30 per day.