Rights activists push to diversify Boston fire, police
Six-figure-salary public jobs remain primarily with whites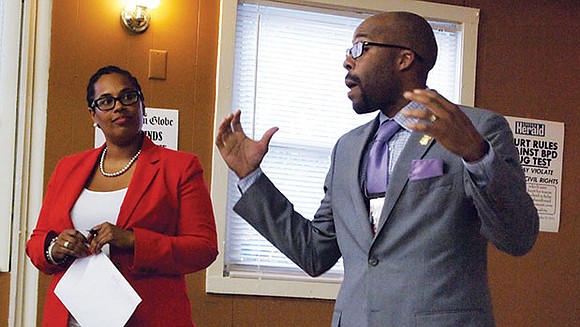 As people of color have increased their numbers in Boston, the fire and police department workforces have remained primarily white. City officials long have said civil service law is responsible for keeping two of the largest city institutions — and their six-figure paychecks — largely out of the hands of minority residents. Community members, elected officials, current and former officers and others gathered at Massachusetts Association of Minority Law Enforcement Officers' offices last week to discuss solution strategies.
Today, the Boston Police Department is 67 percent white, said one attorney. But less than half of the city population is white. The problem is similar in the fire department, where 72 percent of the force is white.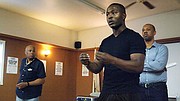 By the numbers
As of June 2017, 20 percent of its fire suppression force — including chiefs, captains, lieutenants and firefighters — is black, 7 percent is Hispanic and less than one percent is Asian, according to a city spokesperson. The spokesperson declined to provide racial and ethnic data on the police force or on those officers eligible or approaching eligibility for retirement.
By many accounts, over the next five years more officers of color will retire than will enter the ranks of police and fire. The incoming police class is almost 80 percent white, according to WBUR News.
City Councilor Tito Jackson said in a Banner phone interview that many officers hired under a 1972 consent decree to diversify the force are coming up on retirement eligibility, and that hiring rates have not kept pace.
"The vast majority of the ranking officers of color will be eligible to retire in the next five years," Jackson said. "The Boston police dept under Mayor Walsh has hired 90 percent white police officers and 75 percent white firefighters in a city that is majority people of color."
Salaries and services
The result is people of color are locked out of high-paying positions, a contributor to Boston's stark racial gaps in wealth and income. The average starting firefighter earns more than $100,000 annually between salary and add-ons, said Darrell Higginbottom, president of the Boston Society of Vulcans, during the meeting. A deputy chief's average income is $228,667, he said.
"This is a 32-year career, and you add up that income over 32 years and that's a windfall that someone else is getting and we're not," Higginbottom said.
Many say as well that departments representative of the populace would serve them better. Larry Ellison, MAMLEO president, said communities of color overwhelming complain about the BPD gang unit and the number of unsolved homicides. Meanwhile, there are no people of color on the gang or homicide units.
Ivan Espinoza-Madrigal, executive director of the Lawyers' Committee for Civil Rights and Economic Justice, said a more diverse fire and police would be a preventative measure against instances such as the killing of an unarmed civilian of color, and would improve residents' quality of life.
"It's a no brainer that if more people who look like us work in these institutions, we would have better access to services," Espinoza-Madrigal said. "We are not entitled to the crumbs. These are public institution that should be representative and inclusive of everyone in our communities."