Report: Boston Latinos get slim share of city jobs
Yawu Miller | 6/21/2017, 11:03 a.m.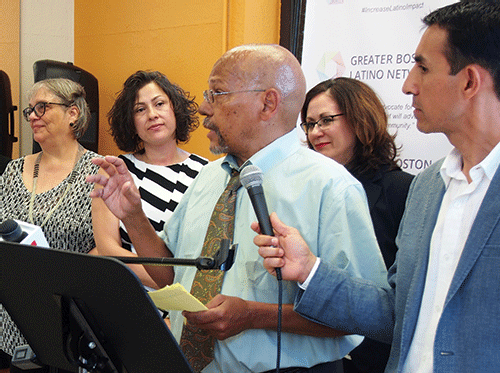 In his remarks, Walsh highlighted efforts his administration has made, including the creation of a diversity dashboard, which tracks the city's workforce by race and rate of pay (the Police and Fire Departments are not on the dashboard) as well as a recent neighborhood career fair that attracted 94 percent people of color.
The Office of Diversity has instituted an alert system for city departments engaged in the hiring process, Walsh said.
"If the applicant pool is too imbalanced, our Office of Diversity is immediately notified so they can do targeted outreach to make sure whatever job is posted in this city builds opportunity," he said.
GBLN member Ivan Espinoza-
Madrigal said efforts to include more Latinos in city government will have to be deliberate and sustained.
"There is no silver bullet for this," he told the Banner. "It has to be incremental steps across the board. Every small step matters. In the Police Department, the Fire Department, the public schools, in City Hall — collectively the small steps will make a difference."
Under the Walsh admin-
istration, 90 percent of new firefighters and 75 percent of new police officers have been white. Espinoza-Madrigal, who is executive director at the Lawyers' Committee for Civil Rights and Economic Justice, was scheduled to hold a forum Tuesday on Police and Fire Department hiring with the Massachusetts Association of Minority Law Enforcement Officers, the Boston Society of Vulcans and the Boston branch of the NAACP.
When asked about the scant representation of Latinos on boards and commissions — just 5.1 percent — Walsh questioned the importance of the bodies.
"There's 350 boards and commissions in this city," he said. "We probably have way too many boards and commissions in this city. I'll make recommendations, but I'm not going to be fine-tuning every single board and commission."
The report, authored by Jennings, Miren Uriarte and Jen Douglas, listed several key finding:
• There is no particular effort to increase Latino leadership as part of governing in a way that can better address the challenges facing Latino communities. Nor are there explicit strategies in place to support existing Latino appointees in adopting an advocacy role or becoming active representatives of Latino communities
• Latino appointees in Boston are few in number relative to the presence of Latinos in the population. Among executive positions, an increase from five to seven Latinos executives was achieved, largely through the presence of a concentration of Latino leaders in the Health and Human Services cabinet.
• There are no Latino leaders in the critical areas of education and economic development and just one working in the areas of housing and land use. On boards and commissions, the story is of a small number of Latino appointees spread thinly across a minority of entities. While Latinos are dotted among a substantial number of managerial entities, they have scant presence on regulatory and fund-allocating bodies.
• Just one of the Latinos currently in an executive position in the City has responsibility over substantive work related to housing, and no Latinos oversee work in the areas of education and economic development.
Walsh warned against an adversarial approach to diversifying city government.
"What we don't need is people pointing fingers at each other," he said. "I think it's important for us now, at this particular moment in time, that we have an opportunity to work together, to move forward, to advance this report. I ask people here today, as we move forward, let's not turn on each other. Let's work together to make sure we continue to advance the needs of the people in our city."