Latino growth drives city's economic future
Latinos are Boston's fastest-growing sector, Boston Foundation and BPDA report says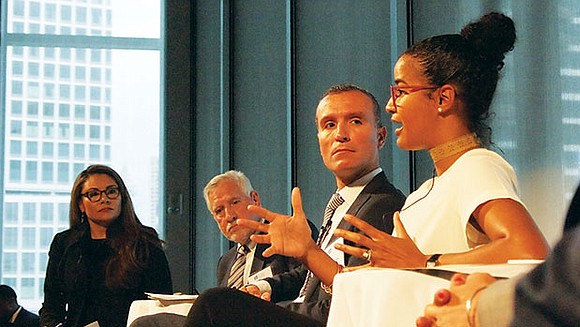 Latinos are Boston's future, according to a new report released by the Boston Indicators Project of The Boston Foundation and the Boston Planning and Development Agency. They are the city's fastest-growing group, comprising 20 percent of Boston's 2015 population and 31 percent of its children.
From 1950 to 1980, Boston's population was in a slump, as was its economy. Then in 1980, numbers picked up as the Latino population expanded, accounting for 92 percent of the city's population growth between 1980 and 2015. With Latinos now representing a large portion of Boston's youth, they'll be the ones driving the economy as baby boomers retire, and they'll be the face of Boston in years to come, said speakers at the report's unveiling at the Institute of Contemporary Art last week.
"You can really make the argument, 'No Latinos, no Boston renaissance,'" said Paul Grogan, CEO and president of The Boston Foundation. "That growth in population has been absolutely indispensable to the growth and vitality that the city exhibits today."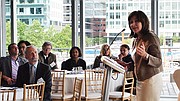 High-level Latino professionals at the event, which was hosted by the Latino Legacy Fund, said that Boston and Massachusetts Latinos represent underutilized talent. Facilitating Latinos' educational attainment, improving their access to job and career growth opportunities and forming more robust and interconnected Latino-led networks, they said, are key measures to help ensure the vitality and wellbeing of this growing sector and to pave the way for continued city and state economic growth.
Barriers to advancement
In Suffolk County, Latinos comprise 14 percent of the workforce, own 10.4 percent of Boston's privately-held firms and account for $9 billion in economic output, according to the report. Despite these statistics, Latino-owned businesses on average make less in sales and have fewer (if any) paid employees compared to non-Latino owned businesses. Latinos disproportionately work in lower-paying industries, such as food preparation with median annual salaries of $31,000 for full-time work. They are underrepresented in some higher-wage sectors such as business and finance, which carry $92,000 median annual salaries.

Likely reasons for these disparities, the report says, are language barriers and the fact that Latinos are less likely to have college degrees or high school completion than non-Latinos. Only 19 percent of Latinos have bachelor's degrees or higher, compared to 50 percent of non-Latinos. Boston jobs increasingly demand higher education, and even in jobs without such requirements, already applicants with higher degrees compete against those without. Additionally, a quarter of Latinos do not speak English well or at all, according to the report. Speakers at the ICA event told anecdotes of medically-trained individuals relegated to cleaning roles at hospitals because they lacked the necessary English capability to use their full skills.
Education and opportunities
Carlos Santiago, state commissioner of Higher Education, said solutions include investing more in funding and strengthening community colleges, given that 70 percent of Latinos attend public higher education institutions, and providing need-based student financial aid. Education approaches also need to shift to acknowledge changing realities such as needs for homelessness services and day care, he said, and educational institutions need to recruit and retain Latino faculty at all staff levels. In addition, greater support needs to be provided to first-generation college attendees to help them navigate where family knowledge falls short, and investments must be made early in the education pipeline to prevent achievement gaps that are often evident among incoming college students.