Huntington Theatre production of 'Ripcord' on stage at Calderwood Pavilion through July 2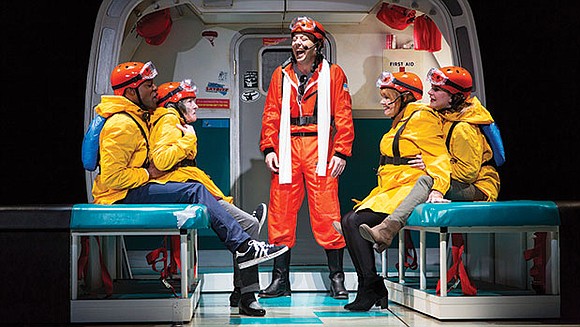 As the hard-working Marilyn, Annie Golden is most enjoyable as her character starts showing her wiles. Eric T. Miller turns Abby's estranged son into a character we care about, and while he is on stage, "Ripcord" becomes a different play. Ugo Chukwu gives Scotty the right mix of amiability and playfulness. Laura Latreille and Richard Prioleau are fun to watch as Marilyn's play-to-win daughter and her compliant mate.
With sets by Tobin Ost, costumes by Gabriel Berry, lighting by David Weiner, sound design and original music by Mark Bennett, choreography by Misha Shields, and projections by Lucy Mackinnon, this production's staging delivers an array of tricks and treats, from conjuring a haunted house and a fabulous sky-diving episode to light-hearted musical interludes that evoke the tonic power of theater to cast people in different roles and other selves. Just watch otherwise-stiff Abby join the lord of the haunted house in a sinuous mambo.
The production teases out the secret at the heart of the play: that in enacting our everyday selves, we are not so far off from the world of theater; and, if given a chance, life — primarily other people — can draw us into new and better roles.