Documenta 14 exhibits create political dialogue between Greece, Germany
'Learning from Athens,' taking place in Athens, Greece, and Kassel, Germany
Susan Saccoccia | 6/8/2017, 6 a.m.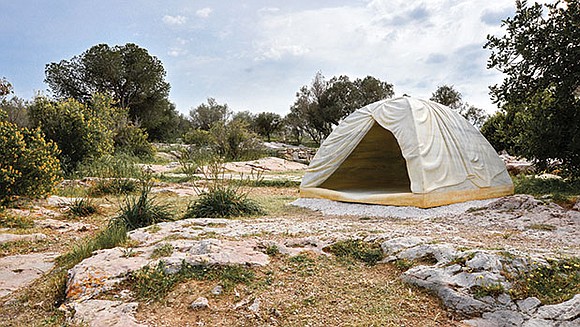 On a hilltop overlooking the Acropolis in Athens, Greece, a tent stands in a clearing among olive trees. Its folds mimic the gentle draping of heavy fabric, and its wide door invites a visitor to enter and enjoy an eye-level view of the Parthenon, the temple built 2,400 years ago to honor the patron of Athens, the goddess Athena. But this tent is no ordinary traveler's shelter. Instead of fabric, it is made of the same translucent, streaked marble as the Parthenon. Sculpted by Canadian artist Rebecca Belmore, the marble tent connects the classical past of Greece with the current crisis facing this nation and the world: the millions of people seeking refuge from war-torn homelands.
Flanked by the sea, Greece is at the crossroads of this crisis. Along the path to Belmore's temple, nearby islands are visible along with large ships inching their way into Athens, a Mediterranean metropolis that is a gateway to Africa, the Middle East and Asia.
As the capital of Greece, Athens also is on the frontline of this nation's conflict with Germany over stringent European Union economic measures. Pension cuts now reach low-income people, not just high earners, igniting frequent protest marches in Syntagma Square, in front of the Parliament Building.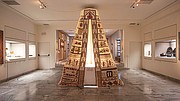 Beyond borders
Seizing an opportunity to create dialogue that eludes their politicians, artists are taking the lead in connecting Greece, Germany and the wider world. For the first time since its start in 1955, a decade after the end of World War II, the prestigious German exhibition of contemporary art entitled Documenta, held every five years in its home town, Kassel, is also underway in another city — Athens. Organized by Polish curator Adam Szymczyk, artistic director of Documenta 14, and a multinational team of curators who like him have lived in Greece for years, the exhibition engages 160 artists from more than 50 countries, who, like Rebecca Belmore, show work at both locations.
Entitled "Learning from Athens," the 100-day Athens edition of Documenta 14 continues until August 16. The exhibition opened in Kassel on Saturday and runs until September 17.

On April 9, four equestrians departed on horseback from the Acropolis on a 1,850-mile ride to Kassel, a Baroque city rebuilt after World War II and the adopted home of the Brothers Grimm. Currently in Croatia, they expect to reach Kassel in July. A more subtle tribute to the Kassel-Athens partnership also took place on April 9, honoring an iconic project for Documenta 7 by Joseph Beuys (1921-1986), a charismatic artist and former Luftwaffe pilot. In 1982, he planted an oak tree in Kassel, the first of 7,000, to herald environmental and social activism. At the National Technical University of Athens, a center of resistance during Greece's brutal military dictatorship during the '70s, Kosovo artist Sokol Beqiri planted a single oak tree grafted from an oak in Kassel.

The refugee crisis looms large among the works on view in Athens. No strangers to the suffering of refugees, Greece ended its war with Turkey over disputed lands with a 1922 treaty that forced the resettlement of more than one million Greek Orthodox Christians and about 500,000 Muslims.