Silver Line pilot aims to show bus rapid transit time savings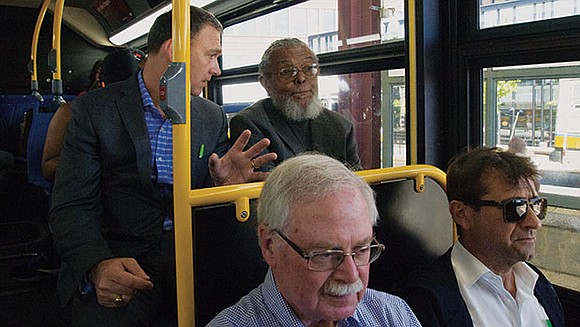 This time around, Holmes has hopes that things will be different.
For one, the pilot aims to demonstrate that buses can be a respected transit mode. Holmes said he has seen models in Mexico where bus routes carry more people daily than all of Boston's subways combined.
As for when roads narrow, buses could be diverted instead onto different streets where they would not lose BRT-designated lanes, Holmes suggested. An alternate idea came from Michael Kodransky, the director for global and U.S. initiatives at the Institute for Transportation and Development Policy, which provides technical analysis to the BostonBRT study group. Kodransky said in a Banner phone interview that another approach is to preserve the bus-only lane on narrow streets and let cars be the one to lose a lane. In other cities, there are some streets that serve only buses, he said.
The designation and positioning of a bus lane also can be handled flexibly and vary by neighborhood based on community preferences, Kodransky said. For instance, the bus-only lane could run along the curb on some streets but shift to the center lane on others, he said.
To make a significant difference and win over the public, Skelton Roberts said it is key to have all features of BRT implemented. Too often, governments take only a few of the required steps, and when the full benefits are not realized, the public becomes jaded on the idea, she said. One tension, Skelton Roberts said, is that nationally, drivers are a very vocal constituency and tend to complain to representatives about loss of parking, while the voices of bus riders who received faster, easier commutes are less often heard.
As part of improving transit, Boston BRT members are promoting ultimately adding more buses so that they run every four to six minutes without bunching, as well as creating new bus stations with platforms. The latter would facilitate boarding and exiting for elderly people or those in wheelchairs, something important for routes serving hospitals, noted Stacy Thompson, executive director of the Livable Streets Alliance and a Boston BRT Advisory Committee member.
Making it real
During the demo ride from Dudley to downtown, BRT Advisory Committee member state Rep. Byron Rushing pointed out three school buses parked in the lane designated for Silver Line bus transit on Melnea Cass Boulevard.
"This [line] is just going to be as slow as before after the trial," unless action is taken, Rushing said. Every time the Silver Line was stopped by a vehicle improperly invading its designated lane, "We lost as much time as we gained [by BRT]" he said.
According to Joe Pesaturo, spokesperson for the MBTA, transit police provide support to municipal officials in enforcing bus lanes.
BRT success relies on political will to prioritize buses, Rushing said.
"The only time the buses get improved is when people go crazy," Rushing said. "We need an MBTA that is serious about this."
Transit oversight is split between the city and the MBTA, with the city controlling street lanes and traffic signals, while the MBTA controls drivers, buses and any vehicular improvements.
Pesaturo said that the MBTA has interest in pursuing BRT, but noted that the agency does not have exclusive authority to make it happen and must partner with municipalities.
"While many of the elements associated with ITDP's definition of Gold Standard are certainly worth pursuing, the T's goal is to leverage any opportunities to improve bus service," he said in a written statement to the Banner.
Plans for all-door boarding are underway, with the MBTA currently developing a fare collection system that would replace the CharlieCard and allow for fare validation at each door, according to Pesaturo.
As for financing, Kodransky said funding for BRT upgrades does not necessarily depend only on the city and state. In other cities, he said, funding has been cobbled together with contributions from foundations, anchor real estate tenants, regional authorities, redevelopment agencies and other sources.