Marketing master goes with the flow
Zamawa Arenas branches off on her own with Flowetik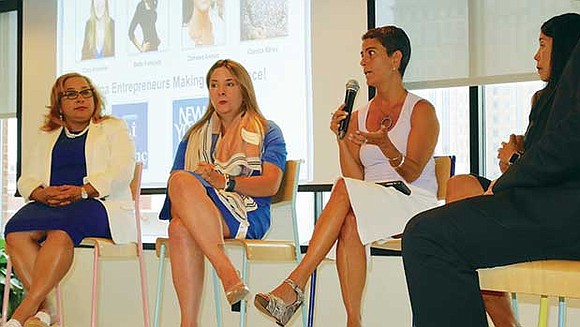 A life milestone — her 50th birthday earlier this year — helped spur her to act.
"I thought, if I wanted to do something different, this was the time to do so," she says. She sold her stake in Argus and launched Flowetik in June.
She is running Flowetik as a low-overhead operation, more virtual than brick-and-mortar. Rather than hiring staff, Arenas has formed what she calls a "confederate of collaborators," a team of independent consultants who bring diverse expertise and viewpoints to Flowetik's projects. This fall, the firm will set up shop at Impact Hub in downtown Boston, a business incubator space and social entrepreneur community.
Social support
Speaking on a panel at the "Latina Entrepreneurs Making a Difference" forum organized by LatInc July 18 at WeWork South Station, Arenas emphasizes the importance of a supportive network.
"When I started with Argus, we didn't know many people or how to run a business. I have such a robust network of people now."
She adds, "I've never met an entrepreneur that wanted another entrepreneur to fail. Offer help when you can, and ask for help when needed. I think there is a big community that we can all tap into, because we all want to see all of us succeed."
Balance, flow and wisdom
Her new firm's name evokes Arenas' dedication to maintaining "flow" in her life and work, as well as giving a subtle nod to ética, the Spanish word for ethics.
"I practice yoga," she says, "and part of my practice is this concept of flow that applies both on and off the mat. To manage people and business you need to think about flow — structuring your work so everything flows seamlessly."
She learned the hard way to remember to have fun and maintain a work-life balance.
"There's a period of my life that's a blur," she says. "You get so immersed in your business that you lose yourself. Taking care of yourself is important."
Now she makes room for yoga, hanging out with her husband and "being a goof" whenever she feels like it.
With her accumulated knowledge and wisdom, diving into a new venture feels a little less scary.
"I have a parachute now, a pretty good one," she tells the Banner. "I learned a lot of things and I carry those lessons with me to this next venture. I feel very calm and grounded with what I'm doing right now."