Good fences, good business
Dorchester company finds success with commercial clients
Yawu Miller | 7/19/2017, 10:27 a.m.
In 1971, Ralph McCoy moved to Boston from North Carolina and went to work for Cyclone Fence, a company that installed chain-link fencing. In 1988, after 17 years on the job, McCoy became a competitor.
"I was doing this work for somebody else," he said. "I said, 'I can do a better job myself.'"
Using his own savings, McCoy leased a workshop and yard in Hyde Park and, working out of a basement office in his Mattapan triple-decker, hung out his shingle to begin serving commercial and residential clients.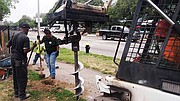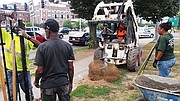 Now, 29 years later, McCoy's business has become a mainstay of the local construction industry with seven employees, including his two daughters, and as much as $1 million in business annually. The firm has five trucks, a forklift, a Bobcat, an air compressor, jackhammers and other equipment, as well as the Hyde Park workshop where steel and wrought-iron fencing can be welded and painted.
A job site at the corner of Massachusetts Avenue and Melnea Cass Boulevard is a showcase for McCoy Fence Company's varied capabilities. The job began with a request from the Wing Fook Funeral Home to erect ornamental steel fencing to separate its parking lot from the homeless encampment on Melnea Cass Boulevard. Aesthetically pleasing protection from the discarded needles, human waste and the occasional trespasser nodding off in the garden would require at eight-foot-tall fence with a so-called "candy cane" top that curves to a 90-degree angle.
After that installation, the owners of the nearby Best Western Roundhouse Suites hotel sought fencing for their parking lot. At the same time, city officials approached McCoy for a fence to protect the greenery on the side of the boulevard. Last week, McCoy, his daughters Donyetta McCoy and Yolanda Anderson, and four other staff were excavating post holes and installing a wrought-iron fence that they rewelded and repainted in their Hyde Park yard.
Commercial and government contracts make up 90 percent of the firm's work, according to Anderson, who serves as vice president. But residential jobs are still an important part of their work, she adds.
"My father never wanted us to be too big to do small jobs," she says.
MBE certification
The largest job the firm currently is handling is the installation of 4,000 linear feet of fencing around the MBTA's Fitchburg commuter rail station. Anderson had the fencing shipped directly to that job site, she says. But because the area around the train tracks is tight, McCoy's workers must dig the post holes by hand. The work at times is grueling, but state contracts like the three-year, $2 million job on the Fitchburg line are the bread-and-butter for many contractors like McCoy, who obtained state certification as a minority business enterprise when he incorporated in 1988.
"It's been very helpful," Anderson says of the MBE certification.
Last week, McCoy Fencing alternated between work for the city of Boston, the MBTA's Fitchburg station, the Roundhouse Hotel and a job for Norfolk Hardware in Dorchester. Juggling multiple jobs is typical for McCoy, and a necessary condition to keep the firm's seven employees busy.