Urban beekeeper seeks to spread the buzz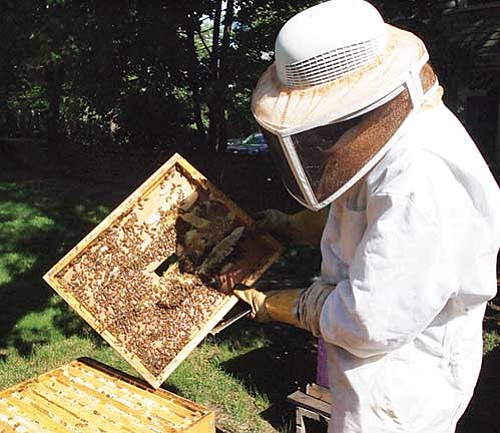 Day to day, Lee's happy to let nature run its course. Bees roam up to six miles to collect pollen, and if they fill their hive, some will leave to found a new colony. He checks his hives about every three weeks, to ensure water is available nearby, and looks for problems such as mites or sluggish bees. The latter could indicate the creatures have run into pesticides and are sick. In the winter he might dig out the snow to allow bees to leave for a cleansing flight. One tricky part of Boston beekeeping is that fluctuating winter temperatures can trick bees into thinking it's spring and leaving their hives too early, when the cold still poses a danger.
When in doubt, there are local beekeeping groups to offer advice, such as the Boston Beekeeping Club and the Norfolk Beekeeping Club.
Building buzz
Lee's quest to raise awareness of urban beekeeping takes a couple of forms. He plans to enter his honey into a large farmer's festival competition this year, and recently participated in a "Tour de Hives," during which cyclist participants visited hives in Jamaica Plain and Mattapan.
He also hopes to spread the hive enthusiasm to other groups, with plans to launch a local youth beekeepers club and conversations about creating a program for ex-offenders in Roslindale's Boston Pre-Release Center. Lee envisions it could be a way for former offenders to learn about nature while getting a chance to give back, get involved and get a chance to build something.
In his day job, Lee is the director of the state's Division of Violence and Injury Prevention. Often at Department of Public Health meetings, he'll bring a jar of honey.
"It's a great ice-breaker, I find," Lee says.