Mayor convenes Boston summit on surge in violent crime
Participants call for long-term violence prevention
Yawu Miller | 7/12/2017, 10:10 a.m.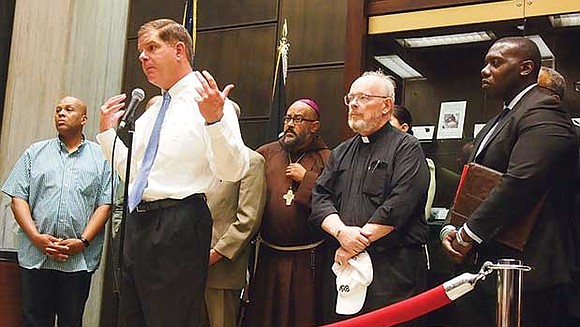 In addition to providing services to youths who are not in summer camps and do not have jobs, Walsh said the participants are collaborating on a comprehensive plan on preventing violence that he said would be completed by Wednesday of this week. As part of that still-forming plan, Walsh said street workers and trauma counselors will work with the district captains in the areas most affected by violence.
"Some of these are repercussion shootings, and we want to prevent that," Walsh said.
Additionally, Walsh said, street workers will work with teens in Department of Youth Services facilities to help expand their options when they're released. "When they come out, we'll put them on a pathway to success," he said.
While many of the programs available to teens already exist, Walsh said street workers can better target at-risk individuals to help enroll them in youth centers where they participate in sports programs and other activities.
"It's about getting more kids engaged, more kids busy, more kids in a gym, more kids in a pool, more kids in positive activities," he said.
Walsh also said city officials are looking to work more closely with the state, noting that he had an 11 p.m. conversation with Gov. Charlie Baker Thursday about working with the Department of Children and Families and working more closely with the Probation Department to coordinate services for teens.