Hundreds of units planned for Roxbury's Townsend St.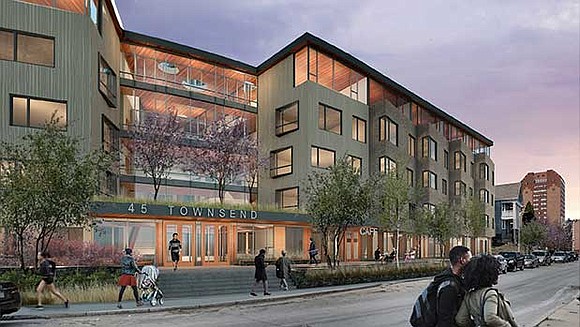 Parking in the area already can be difficult, with many multi-unit homes on Townsend Street and little in the way of off-street parking. Townsend Street's status as a one-way street reduces feasibility of side-street parking, Hresko said. Three nearby schools and several 9-12 unit buildings that lack their own parking spaces further spike demand, and as such it is uncommon to find more than five open spaces on the street at a time, he said. Under KIC plans, each new housing unit would be allotted two-thirds of a parking space.
Hresko said most neighbors' concerns stem from the hefty unit count under current KIC plans. During one meeting of neighbors, attendees voted to say they could stomach about 166 units maximum, Hresko said.
"The one thing everyone really agrees on is the proposal has far too many units and therefore is far too dense," Hresko said.
Kastelnik and Johnson said the project's density is necessary to offset steep construction costs, driven up by the high local demand for construction materials. The total project cost, including creation of the 45 affordable units, is pegged at $150 million, Kastelnik said. In response to community concerns, the amount of parking provided was increased from the originally planned 180-space allotment up to the current 217.
Diverse team
The project boasts a team that is more than 50 percent women- or minority-owned firms. The architectural team includes Studio G Architects (a women-owned business enterprise), Ground Inc. (a WBE) and the D/R/E/A/M Collaborative (a minority-owned business enterprise), as well as G-O Logic. Construction is managed by Janey Construction (a MBE), the legacy consultant Alfred Harris is a MBE and BevCo Associations (a WBE and MBE) is handling Article 80 Management and community and government relations. The owner developer is KIC and the Lewis Family Foundation is providing "philanthropy and community investment."
KIC states in its May 2017 letter to the BPDA that an anticipated 500 temporary construction jobs will be created, along with 14 more permanent KIC employment opportunities in 2021 with $45,000 to $115,000 salaries, as well as two to three full-time café jobs with salaries of at least $40,000 and two full-time co-working space jobs with salaries of at least $40,000.
Next steps
KIC has yet to file a project notification form with the BPDA, and among the next steps will be selection of an Impact Advisory Group. Hresko said community members have submitted to local officials the names of those they would like to see included, and meanwhile he is running an online survey to gather resident viewpoints on the project.