Hundreds of units planned for Roxbury's Townsend St.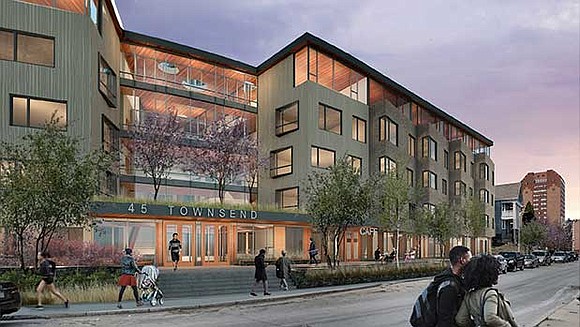 Development firm Kensington Investment Co. seeks to turn an unused parcel in Roxbury into a mixed-used residential building with hundreds of units — something for which they will need to secure Boston Planning and Development Agency approval. KIC's plans call for transforming the former Radius/Jewish Memorial Hospital site at 45-47 Townsend Street into a five-story, 380,000-square-foot structure.
According to Jed Hresko, a Townsend Street resident who has helped organize community discussion, neighbors have mixed responses to the proposal. Many praise the diversity of the development team and the provision of affordable home ownership opportunities, but many also express concern that the influx of new residents could disrupt the neighborhood and further strain an already-challenging parking and traffic situation.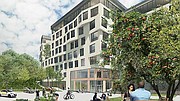 One point to underscore, Hresko said, is that neighbors do not have a sense of urgency about developing the unused site — it is not largely regarded as an eyesore in critical need of a fix.
"The site's not the prettiest, but this is not a case where neighbors see this as something that has to happen," Hresko told the Banner. "A lot of developments are sold on the basis of, We need to improve the neighborhood. Nobody thinks the neighborhood needs fixing. It's a pretty nice neighborhood and people don't want it disturbed."
Apartment tower
Kensington Investment Co. acquired the land in 2015 for $5 million, according to Build Up. More recently, KIC also purchased 33-35 Townsend for about $750,000.
According to a May 2017 letter of intent sent to the Boston Planning and Development Agency, KIC intends to create 322 market rate rental units — including studios and one- and three-bedrooms — on the main site. KIC states that this building would include amenities such as a café, a game room, BBQ grills, a yoga studio, an outdoor pool and co-working spaces. Construction is anticipated to run from 2019 to 2021. Such a building would require zoning exemption as it exceeds what Hresko says is a 45-foot-height limit for the site and for Roxbury in general.
Developers plan to site 45 affordable homeownership units at a separate location within walking distance, likely at Bartlett Yard in Roxbury, according to Beverley Johnson, who is handling government and community relations for the developer, and Connie Kastelnik, communications consultant, who spoke with the Banner. Johnson and Kastelnik said there will be 21 units available to those earning up to 80 percent area median income (that is, earning $57,900 per year for a single-person family or $85,700 per year for a family of four, according to the BPDA). Another 24 units will be for those earning up to 100 percent AMI ($72,000 for a single-person family or $103,400 for a family of four). Hresko said many neighbors supportive of more affordable ownership offerings, but remain uncomfortable about the geographic economic segregation.
Parking
One item of local concern is that the 322 market-rate units would rely on 217 on-site parking spaces, under plans outlined in a KIC's May letter. While the units are within walking distance of bus service and the Orange Line MBTA, many still assume a significant number of new residents or their guests will use cars.