Education is focal point in Boston mayoral race
Jackson, Walsh take different tacks on budgeting, closures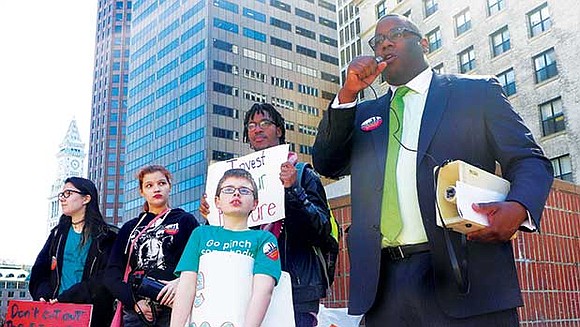 "In a Jackson administration, education as a priority means that other parts of the budget will actually be helped, not hurt, by increases in education. We are seeing an increase in shootings in the city right now. Increases to education and funding for youth programming are things that actually help reduce the burden on the public safety budget," Jackson said. "You either pay now or you pay later."
Walsh argues that schools are more than adequately funded, and that rising costs must be reined in. During an interview with the Banner at City Hall, Walsh said that changes to funding for autistic students and those with emotional impairments have not pushed class sizes above state recommendations, did not impact individual education plan funding (which is centrally budgeted) and was paired with other special education investments.
His office notes that BPS spends 45 percent more per pupil than districts regarded as comparable, although the data did not include information on the academic performance of those districts.
School needs and extras
When asked during the Banner interview if all schools should be guaranteed a nurse, librarian and/or arts and music programming — things Jackson has called for — Walsh said that in an ideal world, such provisions would happen. But in a world with limited money, Walsh said, it is not his place to tell principals how to spend the budgets they receive. He said that some schools may elect to have teachers double as librarians or to bypass certain non-core curriculum offerings in order to focus or specialize in other programming— for instance, STEM or arts.
"We can't paint it with a broad brush and say every school should have this or that," Walsh said. "School leaders make decisions and what happens is, political people say, 'The mayor cut the budget. The school department cut the budget.' … I shouldn't be telling the principal how to spend the money in their school."
Nurses, however, are budgeted centrally, and thus BPS administration, not school principals, determine their staffing.
Additionally, some educators say their school ought to receive budgets that can fund all the offerings they deem important to a quality education, instead of forcing principals to pick which important programs to keep.
Walsh's administration has focused on expanding extended learning time and the Excellence For All program, which prepares students for exam schools. Jackson calls for instituting free bus passes for all students so transit expense is never a reason for absenteeism and for extending computer science classes to all grades K-12.
Both candidates said they want to expand and bolster vocational technical education, including by increasing private partnerships with Madison Park Technical Vocational High School. Walsh's office said one-time city and state investments to Madison Park have improved the facility — including renovation of the welding shop — and a state grant underwrote a culinary arts program. Jackson said he wants more facility upgrades; an on-site bank, hair salon and car repair facility; and adult workforce training offered in the evenings.