The Venice Biennale art show on view through Nov. 26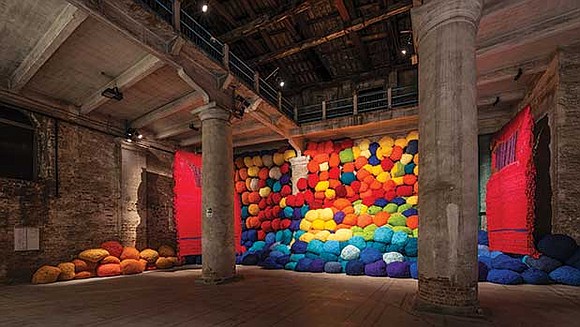 Vancouver-based Geoffrey Farmer turns Canada's pavilion into an installation that intertwines stories of his family with the history of Canada, which this year celebrates its 150th anniversary. Entitled "A way out of the mirror," the ensemble of water works and evocative objects evokes personal losses as well as Canada's epic narrative, including construction of its transcontinental railroad. Farmer exploits the site, currently roofless as it undergoes renovation, and its leafy view of the Venetian basin and incoming ships, as a setting for lyrical water sculptures and objects laden with personal and national meaning — including a vintage clock from Vancouver, a hammer, tools and, carved into a weeping stone, lines from a poem by Alan Ginsberg mourning the death of his mother, "Kaddish." Waterworks spout, spray, and leap and the centerpiece, a geyser, shoots skyward and falls in a grand cascade.
Northern perspective
Looming over a corner of the South Korea pavilion is Cody Choi's satirical neon fantasia, "Venetian Rhapsody," complete with an Asian tiger and blinking disco lights. Inside the pavilion is a poignant installation by another young Korean artist, Lee Wan, who evokes the life of a fictional Korean everyman, Mr. K, through a meticulous display of the man's possessions and photographs spanning decades of dictatorship, war and economic rebirth.
Finland's unassuming, tent-like pavilion, designed by renowned Finnish architect Alvar Aalto, is a viewing gallery for a bracingly funny show entitled "The Aalto Natives." Surrounding the audience with four videos and giant, muppet-like puppets, this production by UK-born Nathaniel Mellors and Finn Erkka Nissinen satirizes Finland's resilient social democracy and such quirks as its love of herring, as well as broader preoccupations such as the origin of life and the meaning of human existence.
Grand production
As Egypt endures a failed revolution and the return of violent political repression, artist Moataz Nasr gives voice to his country's abiding desire for a better future through a video folk tale performed by a cast of more than 100 actors and citizens. Entering Egypt's modernist pavilion, visitors step into a rural setting, with straw and sand underfoot and a wooden railing encircling the seats. Projected on five screens in a 135-degree arc that simulates an expansive mountain landscape, his gorgeous 12-minute film, "The Mountain," tells the story of a young girl who challenges her village's fear of going outside after sunset, a superstition that has turned them into prisoners within their own homes.

Individuals
Some pavilions highlight individual artists. Romania devotes its galleries to an enchanting retrospective of venerated artist Geta Bratescu, 91. Featuring works on paper, videos, and photographs spanning six decades, the show includes this pioneering artist's surrealistic drawings, illustrations of fairy tales, and multimedia experiments — many infused with her searching female perspective. Among the highlights is a self-portrait, "Lady Oliver in Traveling Costume" (1980-2012), in which she photographs herself embracing her mother's Oliver typewriter as if it were part of her.

In the vast chambers of the Arsenale, a quietly compelling series of small prints depicting a whale unit by Inuit artist Kananginak Pootoogook (1935-2010), holds its own. A monumental stack of colorful yarn globes by Nebraska-born Sheila Hicks, 83 ("Escalade Beyond Chromatic Lands," 2016–17) fills a 50' wall. In the Italian Pavilion, a trio of artists turns an entire wing of the Arsenale into a brooding exploration of the occult. Entitled "Il Mondo Magico," their works include a mirrored ceiling that reflects an enormous pool of water and corpse-like figures undergoing alchemical transformation, defying death.