Teacher-entrepreneur serves up fish in Uphams Corner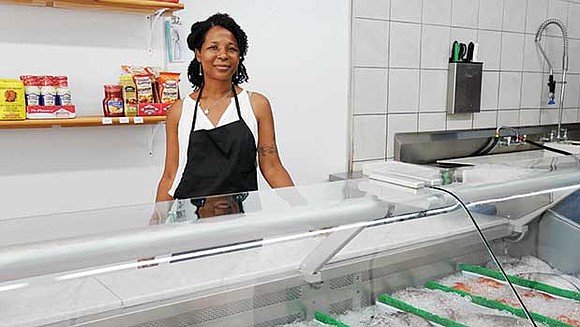 "We had to get a walk-in cooler and display cases," she says. "A lobster tank. A cash register system. We had to put a floor in, get a hand-wash sink in and a mop closet — we basically built the whole space out. But we were frugal and got some really good deals."
Uphams Corner is home to Cape Verdean, West Indian and African American populations as well as a growing white presence. To cater to various cuisines, the market offers favorites such as strawberry grouper, porgy, kingfish, catfish and salmon. One of her team members who is Puerto Rican added seafood-stuffed pastelitos to the menu. Morgan herself has Southern family roots, and fish and grits will be part of a new breakfast menu.
Her entrepreneurial and teaching lives are not totally separated. Many of her McCormack students live in the neighborhood, and they'll pop in to say hello or come in with their families to buy fish, she says. At school, she sees an opportunity be a role model, showing students that business ownership is achievable and can be combined with other careers.
Looking ahead
If she had it to over again, she says she might seek a space that's food business-ready instead of having to build it out from scratch, though she was able to survive the time lag of getting the shop set up.
Her main advice to would-be entrepreneurs is to not underestimate startup costs.
"Everything seems cheaper on paper," she says. "When people tell you you won't always anticipate the true costs, they're right. You have to add about 30 percent more to what you think it will cost."
Dudley's Seafood Market seems to be filling a need in the neighborhood. The business racked up 630 customer transactions in a recent month, more than needed to break even. Now, Morgan would like to triple that number.
With school out, Morgan will have some time over the summer to catch her breath and push forward on a few plans. She hopes to acquire a stove necessary for offering steamed seafood, a lighter alternative to fried. Other ideas include creating recipe cards, organizing a sushi night and partnering with Amazon Fresh to offer delivery.
"Our visibility has to increase, and we have to continue to offer what our customers want," she says. "We want to be knowledgeable about what we offer, and we want to be clean and fresh and offer phenomenal customer service. Hopefully, we'll become a name and a logo people recognize."