Exercise for low back pain
It's all about the core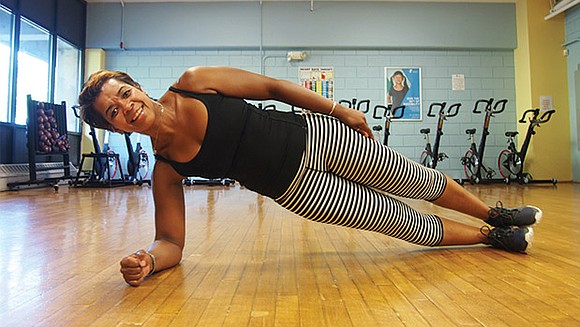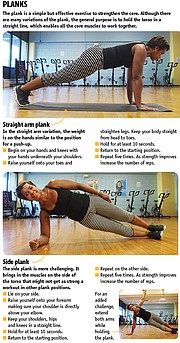 It's all about the core. That's more than just the abdominals, or "abs" for short. Of course abs, which bend the spine forward, are principal players of the core, but they often don't act alone. Rather, the core is a group of muscles that surround your torso like a sheath. The muscles actually prefer to work in a group instead of singly. They contract together to help stabilize the spine. They keep you upright.
Most people engage in aerobic activities to improve the cardiovascular system. Activities like walking and bicycling get the heart pumping, but are working the core as well. With every step the core keeps you standing and moving.
Although sit-ups and crunches to increase core strength are the mainstay in many fitness centers, Safran-Norton is not a big fan of either. She is not alone. These exercises have fallen out of favor, according to HEALTHbeat from the Harvard Medical School. Sit-ups are hard on the back and work the hip flexors as well as the abs, which really might have the opposite impact than intended. Tight or overly strong hip flexors pull on the lower spine and increase its normal curvature, which can result in LBP.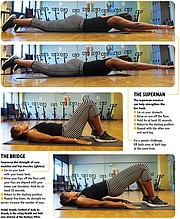 "They can be harmful if you have a herniated disc," Safran-Norton explained. Contrary to common belief, it is possible to have a herniated disc without pain. Pain ensues if there is pressure on the sciatic nerve. Crunches, especially if done incorrectly, just might give the nudge to painful sciatica.
Instead she is a fan of planks, and side planks at that. In exercise you prefer a simple movement that provides the greatest benefit. That's a good description of planks. In these exercises you hold your trunk off the floor in a straight line. There are many variations of the plank. In a forearm plank the forearms remain on the ground while holding your core off the ground in a straight line from head to feet. In the straight-arm variation, the weight is on the hands similar to the position for a push-up. You can also perform planks on your knees if being on your toes is too difficult at first try.
While all planks strengthen the core, side planks tend to bring in the muscles on the side of the torso that might not get as strong a workout in other plank positions.
There are several benefits of planks. They don't require equipment or much space. They actually provide a full body workout, since they work your shoulders and hips as well as your core. They can also improve balance and posture. Generally, you hold a plank for 20 to 30 seconds, and repeat three to five times. Increase the hold time and reps as you improve, up to two minutes.
Although exercise is critical for core strength, it goes hand-in-hand with a healthy diet, weight control and not smoking for overall good health.