Entrepreneur takes high-fashion clothing line to next level
Yawu Miller | 1/18/2017, 11:08 a.m.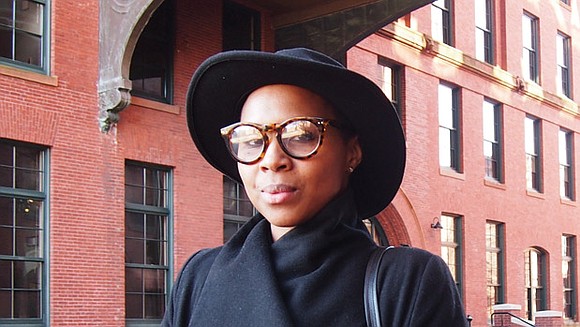 In her early 20s, while Joelle Jean-Fontaine toiled at a telemarketing firm, her heart was in fashion. She spent most weekends in New York City collaborating on fashion shoots with a photographer friend.
"We would come up with different concepts and then shoot the concepts for a photospread," she said.
Pouring her passion into design, Jean-Fontaine soon found herself out of a job and at a crossroads.
"I got fired," she recalls. "I was thinking, 'How do I tell my husband?'"
As she drove home, she heard Jill Scott's song "Golden" playing on the radio with its catchy refrain, "I'm taking my freedom."
By the time she was home, she knew what her next move would be. Her photographer friend had parlayed her photoshoots into a gig with the transcultural arts and culture magazine Trace. Jean-Fontaine secured an internship there.
"I wanted to learn everything about the fashion world," she said. "I knew I wanted to create."
Jean-Fontaine continued to design clothing by night, while learning about the business by day. She soon found she preferred to stay on the creative end of the business.
"The fashion world is very cut-throat," she said. "I'm very down-to-earth."
While she enjoyed the experience, Jean-Fontaine had a husband and son in Boston and also had to make long weekly commutes to participate in the New York fashion scene. She soon returned to Boston and an office job.
By 2010 her clothing design pursuits led her to launch her clothing line, Kréyol. Over the last six years, Jean-Fontaine has developed products and created collections for boutique stores.
Online platform
In her start-up phase, Jean-Fontaine worked with her mother to produce her designs, then brought the samples to trunk shows — events where purchasers review new designs and place orders. For large orders, she has relied upon Nineteenth Amendment, a fashion platform startup that helps little-known designers turn their brand into a business. Customers can order clothing directly from a designer's website. Designers upload garment patterns and technical specifications, secure production quotes from a group of U.S.-based manufacturers, then, after a designated pre-sale period, oversee the production process. The made-to-order, U.S.-made garments are shipped to consumers within weeks. Profits are split between the designer and Nineteenth Amendment. This business model is a significant departure from the traditional one, wherein designers display their work at a runway show, after which buyers place orders with a six-month turnaround.
Growing demand
Last year Jean-Fontaine showed her designs at a trunk show in Macy's Herald Square location, securing orders from boutiques as well as from the department store.
But Jean-Fontaine says she needs to expand.
"Our business is consistently growing," she said. "My mother is sewing full-time. But we've never been able to meet the demand. People come to our website and can't find garments in their size."
This year, Jean-Fontaine plans to relaunch Kréyol with in-house production. She left her office job, is living off savings and income from Kréyol and now works with Epicenter Community to develop her new business.