New insurance business opens on Roxbury's Blue Hill Avenue
Entrepreneur brings 23 years of experience to new venture
Karen Morales | 1/4/2017, 10:23 a.m.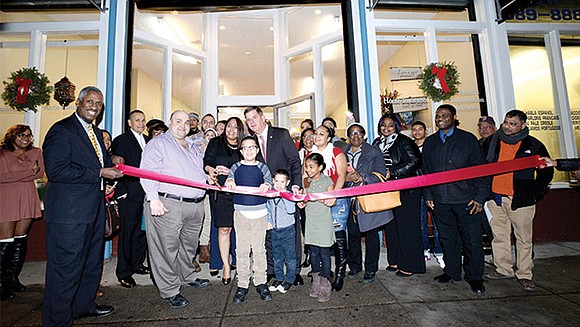 A new insurance agency has opened on Roxbury's Blue Hill Avenue, serving clients in both English and Spanish and offering vehicle, home and business coverage plans. A ribbon cutting for Maryleny Insurance was held in December, attended by Mayor Martin J. Walsh, to celebrate the new bilingual business founded and managed by Dedham resident Maryleny Abreu, a woman of color and community organizer.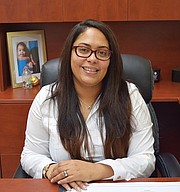 After 23 years of working in the insurance industry, Abreu wanted to create a brand of her own, she said, to help as many people as she could.
"I don't focus on just selling more to get more money. I want to help others understand what they need coverage for, what they're liable for, what plans are suited for their needs," she said.
Born and raised in the Dominican Republic, Abreu moved to Boston with her mother in 1987, at age 14.
"My mother raised me as a single parent, and I came here with no English at all. It was hard for us," she said. "But I think if you focus and do the right thing, you can get there."
After graduating from South Boston High, Abreu attended Suffolk University and studied computer science.
"It wasn't my thing. I like to work with people and talk to them," said Abreu.
While in college, she got a part time job working for a local insurance agency through a friend's recommendation. "She said, 'They're looking for people,' and I said 'Sure' — not thinking I would be doing it for the rest of my life," said Abreu.
Creating a legacy
With over 50 clients so far, Abreu hopes that Maryleny Insurance is something her daughter Stephanie can build upon. Currently studying at Bunker Hill Community College, Stephanie is Abreu's only other employee so far, helping greet guests, coordinate appointments and answer phones at the front desk.
Another legacy Abreu hopes to pass down to the next generation: the community youth group Eddie Squad and everything it stands for.
"It's a basketball tournament in memory of my son, Edward Diaz Abreu," she said. On July 8, 2015, Edward passed away at 19 years old due to drug overdose.
"My son told me, 'I only smoke marijuana, that doesn't kill.'" said Abreu. "Well, he was smoking and somebody else put something in it, so it did kill."
She added, "I looked for programs, I took my son to court, I reached out to people. And it didn't work out." But Abreu hopes that by reaching out to other teenagers, she can help prevent another tragedy.
At the first Eddie Squad tournament last April, Abreu invited other members of the community — "members from church, people who have recovered from drug addictions, former convicts and people from the city of Boston who offer other teen programs" — to talk to the young men who participated.
"My job is to let parents and kids know that there are things they can do and I'm here to help," Abreu said. "I see a teenager outside, I see my son."
The first Eddie Squad tournament was in Dedham, where Edward went to school. Abreu plans to organize the next one in Boston.
When the mayor paid a visit to her new Grove Hall office, Abreu was amazed that he knew about her agency and her work with Eddie Squad.
"He said he was proud that I turned something negative into something positive for the rest of the community," she said.
Ed Gaskin, Executive Director of Greater Grove Hall Main Streets, expressed a hearty welcome for the new business.
"We are pleased to have Maryleny start her business in the Grove Hall community, especially given the program she started for youth in honor of her son," he said. "We welcome people who give back and contribute to the community as well as serve their customers with excellence."
Thanks to support from family and friends and more than two decades of building strong relationships with customers, the Maryleny Insurance office has its doors and arms open, said Abreu.
"I like to get to know the people I insure, and they become part of the family."