Developers looking to build 1,100 units in Roxbury
Residents question affordability of new housing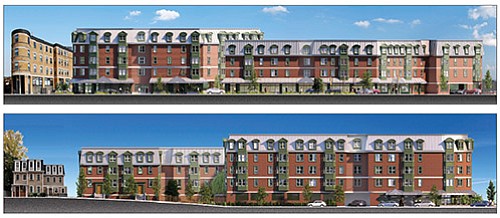 In downtown Boston, cranes and rapidly rising elevator towers herald the arrival of new luxury apartment buildings with rents and condo prices that seem to match the soaring heights of the new structures.
In Roxbury, there are no cranes and no tall buildings — yet — but several projects recently approved by the Boston Planning and Development Agency promise big changes:
Tremont Crossing, which will combine retail and office space with more than 700 units of housing and a new National Center for Afro American Artists museum. The project, opposite Boston Police Department headquarters on Tremont Street, is the largest approved by the BPDA and promises 103 units of affordable housing.
Whittier Choice — a project made possible with a $30 million HUD grant — will replace the existing Whittier Street public housing development with 210 new affordable housing units and 260 mixed-income units both on the site and nearby land parcels.
The Cruz Development Corporation's 280-290 Warren Street project will include 95 units of moderately affordable housing, along with retail and office space for Cruz Development's 45 employees, near the Washington Park Mall. The project will include 44 elder units and 102 on-site parking spaces.
The Urban Edge community development corporation is planning 49 units in its Walker Park development at 67 and 80 Walnut Park. The units will be affordable to people earning less than 60 percent of the area median income (less than $41,250 for a single earner), with 15 percent reserved for those making less than 30 percent of AMI.
Westminster House, being developed by a team of nonprofit professionals who include Elizabeth Stone House chief operating officer Maryann Chaisson, will feature 27 affordable transitional and permanent housing units at 3012 Washington Street, near the corner of Westminster Avenue.
In addition to the more than 1,100 units those projects will bring to Roxbury, dozens of smaller projects — including 17 moderately affordable one- and two-family homes underway by Crosswinds Enterprises on Waumbeck, Harold and Crawford streets — will further add to the neighborhood's housing stock.
The projects planned for Roxbury pose challenges and opportunities for the neighborhood, said Jorge Martinez, a member of the Roxbury Strategic Master Plan Oversight Committee.
"It's a mixed bag," he said. "Unless we build more real affordable units, people will struggle to pay $2,000 in rent."
City Councilor Tito Jackson noted that while fewer than half of the units currently in the pipeline will be designated affordable, many of those that are may continue to be unaffordable to current Roxbury residents.
"Seventy-five percent of Roxbury residents make less than $50,000 a year," he said. "Just because a unit is called affordable doesn't mean it is affordable."
Jackson, who has led efforts to stop displacement of longtime neighborhood residents through his group Reclaim Roxbury, argues that market-rate developments offering two-bedroom units for as much as $3,000 a month are exerting an upward pressure on Roxbury rents, forcing existing residents out of Roxbury.
"We have to assess whether we're using public land to displace people who currently live in the neighborhood," he said.