Berklee College of Music professor's online courses provide access for all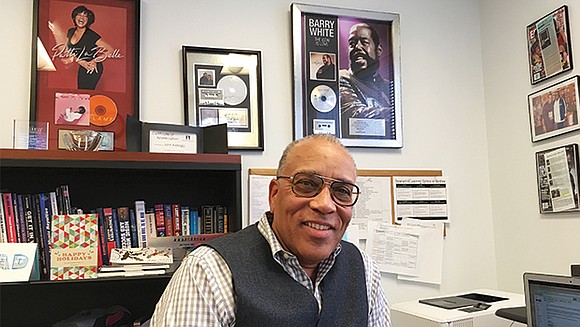 In the late 70s, he gave up the singing and touring life for law school, returning to his home town of Cleveland and Case Western Reserve University School of Law.
Kellogg elaborated on this decision point in an interview last year with Syracuse University Magazine:
"At that time, many artists, especially black artists, were not getting the kinds of contracts they deserved. I believed that if I had a law degree, I could serve musicians and artists well by representing them."
As a newly-minted entertainment lawyer, his first client was The O'Jays. This was a dream come true, as he had idolized the Cleveland-based soul quartet while growing up, he said, and had even set a goal while in law school of someday working with them. He went on to represent The O'Jays for the next 25 years, as well as other acts including rapper G. Dep and R & B artist Gerald Levert.
An evolving industry
In recent years, the music industry has undergone dramatic change, especially with shifts from record company domination to musicians self-publishing on the Internet and from traditional sales to Internet streaming and subscription models.
The good news is that musicians have far greater access to the market now, Kellogg says, though on the other hand, "Everyone has access, so it's tough for your music to break through the clutter."
When his first open course launched in 2014, Kellogg also released a second edition of his 2001 book, "Take Care of Your Music Business," updated to cover evolving 21st-century technology and business models and related legal concepts. He predicts it will be time for a third edition soon, given the rapid pace of change.
"It's a very exciting time," he said.
The next "Introduction to the Music Business" session on EdX starts April 17, with course registration open in early March. Self-paced "Music Business Foundations" sessions on Coursera begin every few weeks.