Berklee College of Music professor's online courses provide access for all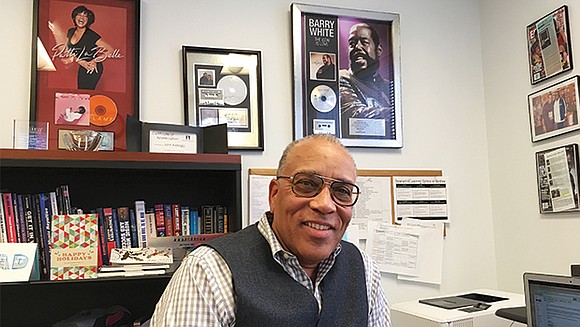 "Every time music gets played, someone gets paid," John Kellogg is fond of saying.
The musician, lawyer, book author and Berklee College of Music professor follows the statement with his signature advice for anyone involved in music performance and production:
"You should get paid, not played."
Kellogg's music business wisdom has accrued over a multi-faceted working life that spans songwriting and singing with the band Cameo in the 1970s, decades as an entertainment lawyer representing star R & B and rap acts, and educating students at University of Colorado and now at Berklee, where he also is assistant chair of the music business/management department.
Berklee students learn music business basics from Kellogg in for-credit classroom and online courses. But in 2014 Kellogg opened the door for people anywhere to be schooled in basic legal and business aspects of the music industry at no charge, by developing the first Massive Open Online Course (MOOC) on music business.
In his Berklee office, where the walls are lined with posters, photos of musician friends and clients and plaques from major stars whose songwriters or producers he represented, including Barry White, Patti LaBelle and Anita Baker, Kellogg spoke with the Banner recently about his career path and his open courses
"Having been a recording artist myself, and being so fortunate to have had experiences that I've had, I felt an obligation to try to give young people coming up a better understanding of the industry," he explained.
He built the courses, and they came. So far, nearly 70,000 people from around the world have accessed "Introduction to the Music Business," a six-week course offered four times per year on the EdX platform, or the shorter "Music Business Foundations" offered every few weeks on Coursera.
Educating from experience
Access to the MOOC video lectures and other course materials is open and free. For an optional fee (currently $49) students may have access to quizzes, assignments or discussions and can receive an official certificate of completion. The video lectures cover such topics as the history and future of the music industry, copyright basics, working with managers and agents and understanding recording agreements.
"The course opens their eyes to a lot of things they didn't know about," Kellogg said. As an example, many people are unaware of the importance of performance rights organizations, which help songwriters and publishers collect royalties for the use of their music.
Being savvy about such elements is only becoming more important in the 21st century as artists are recording music on their own, he said. "They are in essence acting as their own record companies, so they need to understand the rights and obligations they might have."
Long before becoming a lawyer and a professor, Kellogg sang with The New Decade, a band he formed while in college at Syracuse University, and then with New York City-based Cameo, in that band's early days when they were becoming known with singles like "Rigor Mortis" and "Funk Funk."