The Partnership marks 30 years
Organization helps people of color rise through corporate ranks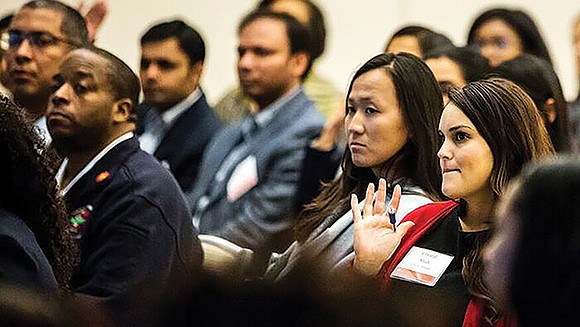 "You may be bright, but not understand the corporate culture," said Fulp. "We don't want you to not succeed because of that."
Participating fellows have been identified as high-potential candidates by their employers, who typically cover program fees, which range from $5,000 to $9,500.
"This is a return on investment," said Fulp. "These are individuals the corporations want to retain and develop further. Companies provide leadership training because they believe you are already providing value." Part of the return, she noted, is that Partnership fellows share what they've learned with their team members and manager as they go through the year-long program.
The Partnership will be unveiling its own "30 years of impact" report at a three-day summit of fellows, alumni and corporate partners to be held in June on Martha's Vineyard, she said.
Prior to taking the helm at The Partnership in 2012, Fulp had served as a U.S. representative to the 65th United Nations General Assembly in 2010-11, appointed by President Obama. She had taken a leave of absence from her job as a senior vice president at John Hancock Financial in order to fulfill the UN assignment.
"A role like that really transforms you," she said. "When I came back, I thought, 'What am I called to do?' And I felt I wanted Boston to look more like the United Nations. So when this [Partnership] opportunity came open, I was delighted to step into it."
Fulp traced The Partnership's 30-year history. The organization came into being with the merger of two initiatives: Mayor Kevin White's Committee for Boston, formed to provide a forum on racial tensions after a tumultuous period in Boston's racial history that included court-ordered busing for school desegregation, and the Corporation for Boston that Hubie Jones formed to advance the city's African Americans.
Boston rising
Earlier leaders Hassan Minor Jr., Benaree Pratt Wiley and Beverly Edgehill expanded The Partnership's offerings over time, increasing the range of program levels, number of minority groups served and services offered to corporations. Fulp's own contribution is the addition of the C-suite program for the highest level of executives of color — those in roles whose acronyms begin with "C," such as chief executive, financial, operations, technology and information officers.
Fulp considers it a testament to the progress Boston has made over recent decades that there are now enough people of color in high-level corporate roles for The Partnership to engage them with a C-level tailored program.
"Our city has grown. We are now a majority-minority city and we have people of color at all levels. Our mission is to engage all of them and to grow the numbers, particularly at highest level."