The Partnership marks 30 years
Organization helps people of color rise through corporate ranks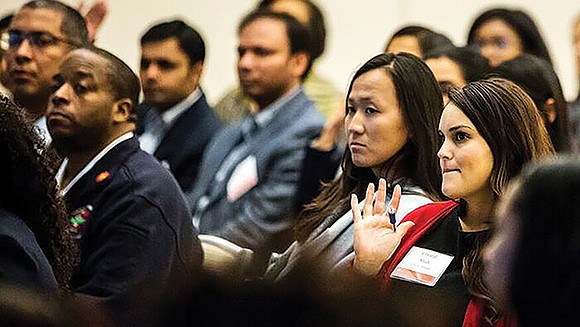 The Partnership, a nonprofit with a mission of diversifying Boston's corporate leadership pipeline, is celebrating its 30th anniversary this year.
Since 1987, the Boston-based organization has offered leadership development programs to nurture the talent of African Americans and, increasingly, other people of color traditionally underrepresented at the highest levels of business and industry. Over the years, the organization has worked with some 300 partner organizations and now has a network of more than 4,000 alumni.
Good leadership
President and CEO Carol Fulp, who has led The Partnership since 2012, explained that the organization takes a dual approach to expanding corporate diversity: At the same time as its leadership training programs prepare people of color for executive opportunities, its corporate consulting helps ensure that companies are ready to welcome diverse candidates.
"We work with corporations on really understanding the advantages that diversity brings," Fulp said in a recent interview. "It's a global marketplace. If you want to produce goods and services accepted in world markets, you want people who reflect those markets."
Fulp cited a wealth of studies in recent years, by Forbes, McKinsey, Scientific American and others, that underscore the value of a diverse workforce in making companies innovative and profitable, as well as census data that confirm the growing proportion of people of color in the U.S. population.
"At the end of the day, our workforce is going to be people of color, so you want to be sure you have an environment that's conducive to all people," she said. "That's just good leadership."
Staying power
Marita Rivero, executive director of the Museum of African American History in Boston and Nantucket, was an early participant. Back in 1988, as she was returning to Boston from Washington D.C. to resume a radio career at WGBH, the public broadcast station signed her up for a Partnership fellows program.
Today, Rivero credits The Partnership not only with fostering new business and friend relationships, but with keeping her in town.
"I had experienced Boston at its most difficult time in terms of racial tensions," she told the Banner. "People wondered why on earth I would come back, and I intended to be here about three years."
But she stayed, rising to vice president and general manager for radio and television at WGBH and spending some 30 years there.
"Part of changing my mind was the Partnership. It changed how I thought I could move through the city over time. It provided a real thought leadership and a view that we were more than simply people sitting in little jobs. We as black people were connected to other people in the city; there was a whole culture that we were part of. We could engage with it, and really become rooted."
Return on investment
The Partnership's 2017 cohort of 200 fellows, who met for the first time on Jan. 26, come from a wide range of industries and companies and are enrolled in programs tailored for early career, mid-career, executive and "C-suite" levels. A new BioDiversity Fellows program targets mid-career life sciences professionals. Over the course of a year, the fellows will receive training and mentoring and networking opportunities to bolster the sorts of leadership, relationship building, emotional intelligence and organizational capabilities necessary to rise, thrive and take charge in the corporate world.