Neighborhoods battle BPDA on affordability
Housing issues remain a challenge for city agency
Yawu Miller | 2/15/2017, 10:19 a.m.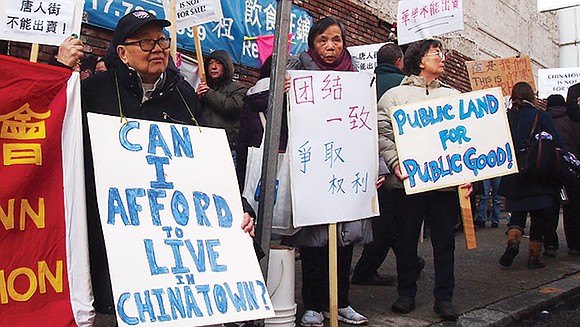 In Chinatown last Wednesday, long-term neighborhood residents said three proposals for new hotels cast a shadow on their aspirations to stay in a community that is becoming increasingly unaffordable.
"Look around us," said Chinese Progressive Association co-Director Karen Chen. "Chinatown is in the shadow of luxury towers. Row house tenants are being displaced building by building, block by block."
In Dudley Square last Monday, Roxbury residents who came to a meeting to discuss community benefits and affordability in the Tremont Crossing project were nearly drowned out by a chorus of building trades members pressing for the speedy construction of the proposed 1-million-square-foot mixed-use development.
Meanwhile, as the cost of new housing was debated in Dudley Square, demonstrators turned out at City Hall Plaza to protest what they say is a lack of affordability in the Boston Planning and Development Agency's JP/Rox plan for the redevelopment of the area along the Orange Line between Jackson Square and Forest Hills.
The demonstrations and vociferous opposition to planned and approved development projects underscore both the challenges the city faces in promoting construction to meet the growing need for housing in Boston and neighborhood activists' strained relationships with the city departments that, to varying degrees, keep developers in check.
In projects large and small, neighborhood activists are pushing back against the city agencies designed to serve as intermediaries between the aspirations of real estate developers and the city's residents.
But the conflict encompasses larger issues of community inclusion and control in projects like Tremont Crossing, where neighborhood residents are questioning whether the mix of housing, retail, office and cultural space will serve the interests of the Roxbury community. While 13 percent of the 720 units slated for the site are planned to be designated affordable to those making 60 percent of the HUD-designated Area Median Income, Councilor Tito Jackson noted that those units would be unaffordable to the 75 percent of Roxbury residents who earn less than $47,280 — 60 percent of the AMI.
"The people who live in our neighborhood cannot even afford the affordable units," he said.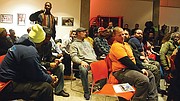 The new BRA?
Five months after the Boston Redevelopment Authority changed its name to the Boston Planning and Development agency as part of a rebranding effort, it remains unclear whether there has been any corresponding shift in the balance of power between neighborhood residents and real estate developers.
Plan JP/Rox — one of the first planning initiatives the agency has undertaken under the mayoral administration of Martin Walsh — has generated controversy with near-constant protests and confrontations from neighborhood activists, who complain the luxury apartment buildings for which city has been granting zoning variances are accelerating the pace of gentrification and displacement in a traditionally working class section of Jamaica Plain.
On Monday of last week, ahead of a planned BRA board meeting during which the final version of Plan JP/Rox was to be approved, more than 100 housing activists turned out to City Hall Plaza in protest.
During the Roxbury Strategic Master Plan Oversight Committee meeting that same evening, Jackson, who is challenging Walsh in this year's mayoral election, questioned the city's commitment to stopping displacement of long-term residents.