Boston Fire Department hiring few people of color
Officials cite state veteran's preference law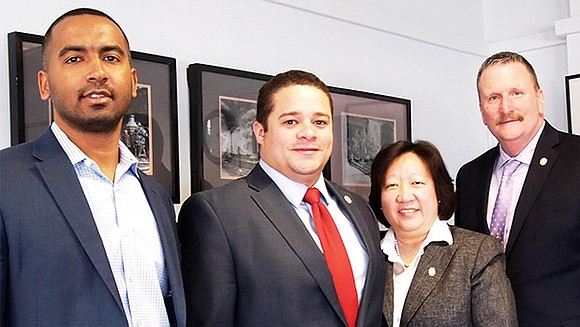 A recent letter from the Lawyers' Committee for Civil Rights and Economic Justice ratcheted up attention on the Boston Fire Department's low diversity numbers.
Since 2011, people of color have comprised half or more of Boston's population, but to date, only 25 percent of the fire department is non-white, according to a letter the Lawyers' Committee sent to Mayor Martin Walsh and Fire Commissioner Joseph Finn. And diversity seems set to decline, with 90 percent of new firefighters brought on under Walsh being white, and many minority firefighters nearing retirement age, the letter stated.
The Lawyers' Committee is demanding action, outlining several policy recommendations formulated in conjunction with the Boston Society of Vulcans and suggesting that failing to take up these policies could constitute a violation of federal law. Should a court find that an public agency's practices — for instance, its hiring policies — produce disparate impact, and that the agency had available but did not choose to use alternatives that are less discriminatory and do not impede meeting business needs, the court may rule that this violates anti-discrimination law.
The Boston Society of Vulcans is a nonprofit organization of Black and Latino firefighters with a mission to empower urban Boston residents to pursue public safety careers.
Commissioner Finn, along with Danielson Tavares, the city's chief diversity officer, Juan Sanchez, the fire department's diversity officer, and Connie Wong, fire department deputy commissioner for labor relations, human resources and legal affairs, met with the Banner at the Boston Fire Department headquarters on Monday. During the meeting, officials said that their hiring practices are tightly constricted by state law but that they seek to boost diversity and will take action on several initiatives, including some of the Lawyers' Committee proposals.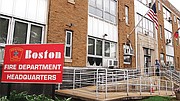 Civil service list and language preferences
When the Boston Fire Department hires its next batch of recruits, it will select names from a ranked state-created list of eligible applicants. Those who pass an entrance exam are ranked in order of preferential status, and then, within each preference category, in order of test scores. Only after every member of the top preference category is hired (or bypassed for a valid reason) may members of the second-highest preference category be considered, and so on.
Top hiring priority goes to applicants who are the children of firefighters or police killed in the line of duty, followed by children of firefighters or police completely disabled in the line of duty — such as firefighters paralyzed from being caught in a collapsing building. These are rare eventualities and the latest list had only three people in these categories combined, Finn said. Next, preference goes to disabled veterans and then veterans. Only after every eligible veteran is hired do the most promising general category applicants get consideration.
A typical recruit class is 50 people, Finn said, although this year's group will number 65 in an effort to compensate for the number of officers aging out. With hundreds of applicants for tens of spots, non-military applicants have essentially no chance.