Guyanese immigrant shares his story through art, teaching
Collects discarded objects, produces art that speaks to the struggles of being black in U.S.
Amy Pollard | 12/29/2017, 6 a.m.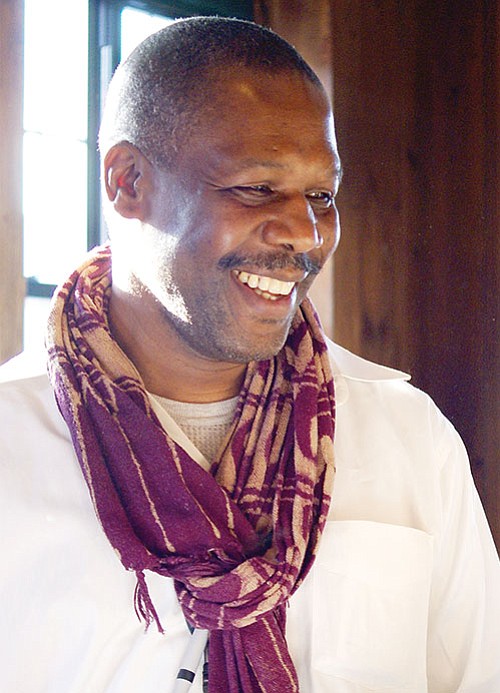 Fitz-Gerald's art probes elements of the black experience. Some paintings evoke images from Guyana and Southern Africa, where he lived for two years — fruit sellers, dancers, villagers. Others depict scenes of suffering and oppression — a man with scars dug into his back.
"I don't want to ever forget what came before me," he says. "I always want to honor these ancestors and the road they have walked, things they have felt, the joys, the degradation, the being spat on. This is a part of me."
Fitz-Gerald knows what it's like to be an outsider. He explored this theme in a screenplay he wrote in the 1990s, about "a person who felt displaced and was trying to find home."
In the play, the main character leaves his country as a boy, comes to America and serves in the military. Then he returns to Guyana — only to realize it has changed.
When Fitz-Gerald traveled to Guyana in 1997 to assemble a cast and shoot the film, the movie started playing out for him in real life. "People looked at me like I came from the U.S. with bags of money," he says. "So they were looking to see what they could get from me … it kind of broke my heart."
He's since returned to Guyana to visit friends and family. But he doesn't know if he could live there. "I don't think I fit in," he says. "I've always felt as an outsider, in many different communities. I'm an outsider."
The teacher
In a spacious classroom at Mario Umana Academy, Fitz-Gerald grabs a black Expo marker and draws two horizontal lines on a whiteboard, which he fills in with squiggles. The drawing shows a "crosswalk" — a vocabulary word that he repeats loud and clear for his eight students.
It's a Thursday night and Fitz-Gerald is teaching his ESOL class in East Boston. The students come from Central and South America — Honduras, El Salvador, Guatemala, Colombia, Brazil.
Fitz-Gerald the teacher is a sharp contrast to Fitz-Gerald the artist — he's chatty, animated and curious, asking students about their lives outside of class. He asks one student about how her family is doing. He gives advice to another about how to secure housing — during the chapter on finding a home.
"They're a good bunch," he says, as he leans back on a desk.
But he gets angry sometimes. He chides students who rely on their phones to translate. He wants them to think for themselves.
"I don't like when students don't do the work, when they don't make effort to even fail," he says. "Because even failing—there's a lesson in that."
Lessons emerge outside the classroom, too. He takes his students to museums and libraries. He brings them out into the neighborhood to practice English. He tells them stories about his life. He's molding them, like he molds his art.
"I have walked their path as an immigrant, and whatever it is I can do to make their course less bumpy, a little smoother, this is what I do," he says. "I teach me. I use a lesson as the guide, but I teach me."