Guyanese immigrant shares his story through art, teaching
Collects discarded objects, produces art that speaks to the struggles of being black in U.S.
Amy Pollard | 12/29/2017, 6 a.m.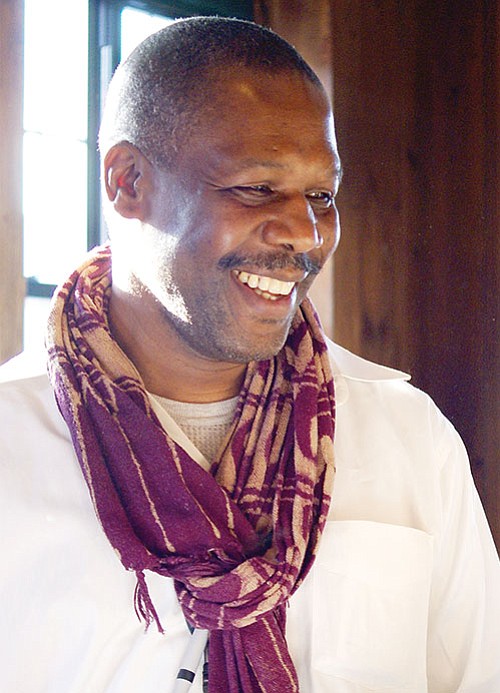 From construction sites to deserted beaches, Jason Fitz-Gerald has a knack for finding beauty in unlikely places. The 70-year-old Guyanese artist finds materials left by the wayside and transforms them into paintings and sculptures. His art depicts elements of the black experience.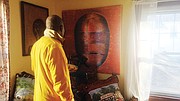 "Black folks were discarded," he says. "During the civil rights movement, we were used, abused, thrown out. Hung. Lynched. Homes were ravaged. Broken apart. You weren't even a human. This is my getting them back together, to make them whole and beautiful."
When Fitz-Gerald is not making art at his Fitchburg home, he's teaching English to immigrants in East Boston, where he's long had a presence. He, too, is an immigrant. He knows what it's like to be a long way from home.
The artist
The door of Fitz-Gerald's home, tucked away on a quiet street in Fitchburg, opens to an enclave of African-themed masks, paintings and sculptures. A painting called "Sun Children" features silhouetted figures dancing on wood splashed with oranges, yellows and reds. Another shows a face, shaped around the natural marks on a piece of wood Fitz-Gerald found at a beach.
"My work is more African-themed, so there's a primitive bent to it," he says. "It's not polished and neat, and I think life is like that."
Fitz-Gerald came to America in 1969. He was 21 years old. Brooklyn was a far cry from the fruit trees and tropical climate of Guyana — and the icy cold wasn't the only difference.
He arrived at the tail end of the civil rights movement. Race relations were constantly in the news, and he heard the word "minority" in a new context.
"[In Guyana] people intermarry … I grew up with a mixture of people," he says. "I never knew about giving people other names. 'Minority' is something I learned when I came to the United States."
That reality sank in when he was stationed at Fort Polk, Louisiana during the Vietnam War. He recalls going out one night with fellow recruits, who were white, and being told he couldn't enter a certain bar. At first, he thought his friends were joking.
"Later on that night, people got a little bit more inebriated, then the stuff came out," he says. "They said, 'You know why you couldn't go? Because they don't allow black people into there.'"
It was a stark introduction into what it meant to be black in America — a theme that his art grapples with.
To his neighbors in Fitchburg, where he's lived for about a year, Fitz-Gerald is an enigma of sorts. He's a towering man who walks around in old, wrinkled clothes. He lies in the grass. He talks to trees.
"As an artist, I can be confusing to myself. I know I can be very confusing to people," he says. "I have a very hungry, creative beast inside of me that needs to be fed."
That "creative beast" has fueled a decades-long career in painting, sculpting, acting and screenwriting. It's taken him to cities around the world—London, Edinburgh, Amsterdam, Blantyre (Malawi) and Windhoek (Namibia). He's studied at a number of schools, including the American Film Institute, the American Academy of Dramatic Arts and Lesley University. His art has appeared in venues including the Museum of Fine Arts in Boston and the Art Institute of Atlanta.