Black Market expands
Roxbury venture prepares for open-air market in spring 2018
Karen Morales | 12/27/2017, 10:55 a.m.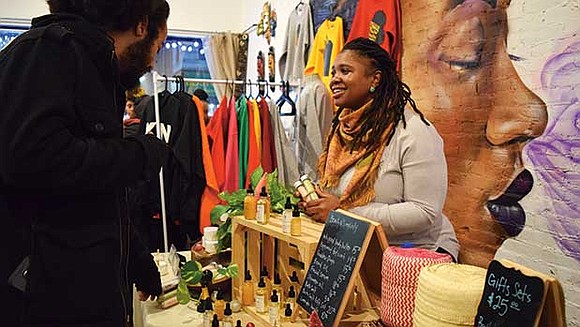 Black Market is currently on winter hiatus after its last holiday market the weekend before Christmas. For the next few months, the Grants plan to work on launching an official website and the WoWa International Market, which will open in spring and run weekly from May to October.
"We look forward to seeing the city help us grow and help grow a black business that's about the business of other black businesses," said Kaidi.
She continued, "We try to focus on an operating principle called the win-win-win principle. We want a win for the community, a win for the artist, vendor or entrepreneur we're working with, and a win for Black Market. Since we're talking about equity in the city right now, we believe in being equitable and fair as a business, too."
The two describe themselves as serial entrepreneurs. "We've been involved in developing and being entrepreneurs since the beginning, since we've been married," said Chris. "As long-time Roxbury residents, we've always been interested in helping the community."
In addition to Black Market, the Grants will open their restaurant venture, Fort Hill Jerk Chicken in the summer, and their nonprofit organization, Diamond Diaspora, will hire 25 teen girls to work as interns for Black Market.
"We're always sending kids away to corporate internships, but they never see the brilliance within their own community," said Kaidi. "That's what makes Black Market really special ... black excellence at its best."
WoWa International outdoor market will continue the tradition of excellence, Kaidi said. "This community deserves to have a dope outdoor market that enlivens the square, that lends beauty to the square and that creates energy in the square."