Black Market expands
Roxbury venture prepares for open-air market in spring 2018
Karen Morales | 12/27/2017, 10:55 a.m.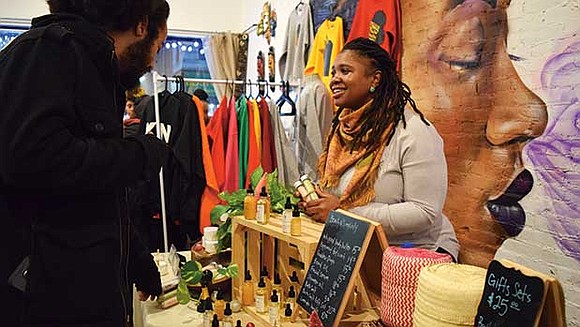 Entrepreneurial husband-and-wife duo Kaidi and Chris Grant will be expanding their Black Market venture into an open-air market in spring 2018, increasing the opportunities for black vendors to sell their products and services in Roxbury.
The pair told the Banner they are negotiating with the city for a temporary usage agreement for the BPDA-controlled Blair Lot parcel, which abuts the current location of their indoor market at 2136 Washington Street.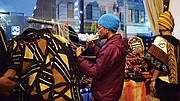 The additional space would triple the capacity for the market and give opportunity to approximately 35–50 new black businesses to generate revenue, they said, and would allow them to accommodate Black Market's expanding wait list of vendors.
"It will look like arts and culture on steroids," said Kaidi about the planned outdoor market, which will be called WoWa (for west of Washington Street) International Market. "There will be live music, live art, fashion and international food."
The native Roxbury residents first launched the retail pop-up Black Market in June 2017 as a way to "preserve the black culture of Roxbury and its indigenous population," said Kaidi. "We're losing it with gentrification."
According to the Grants, the market, open every other weekend, was created to "reignite the creative economy," and "eradicate the wealth gap in Boston by providing a cooperative economic platform for Black businesses."
In its first half-year, Black Market has had over 150 different vendors selling their wares, generating about $400,000 in revenue, above initial projections.
Vendors range from "soap makers, a doctor that moonlights as a silversmith, shea butter produced in a totally green space by solar energy, a vinyl record upcycler that makes art and home goods made of vinyl records," said Kaidi. Other vendors include a laser-cut wood jewelry artist and a virtual reality artist.
"We're about being innovative when it comes to choosing who's here. Is it interesting? Is it cutting edge?" said Kaidi. "We like to push the envelope."
Although the Grants are excited about the artistic and innovative vendors they work with, they remain clear about their main mission: to create a marketplace for small businesses where cash flow can be recorded and an income stream can be generated so that they can one day open up their own locations, support their families and stay in Roxbury.
"We have some pop-up artists who are looking forward to the spring market because they have had such success of building a record of cash flow," said Kaidi, "which you're not able to do with irregular pop-ups. You can get steady foot traffic here and you can get repeat customers."
Kaidi estimated that they've had about 10,000 people come in to the market since opening in the summer.
The couple's main form of marketing for the Black Market is through social media and word of mouth. "We haven't even put out a press release yet," she said.
A win-win-win approach
The Grants take pride in their diversity, including vendors from over 25 different countries. "We're the most diverse market in New England in ethnicity, age, income, gender and religion. That's exciting to me," said Kaidi.