Gospel choir thrills with Christmas concert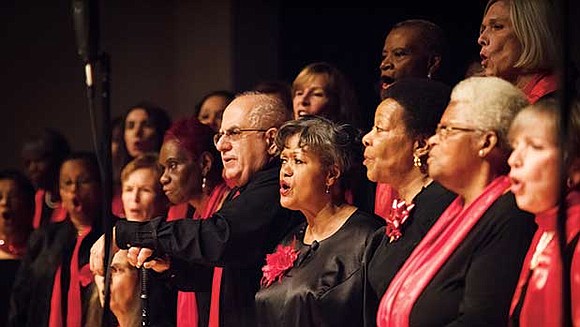 The songs
The program included the choir's signature works, "Total Praise," by renowned gospel artist Richard Smallwood; and the Hallelujah Chorus of "Handel's Messiah — A Soulful Celebration," a gospel-inflected arrangement of Handel's 1741 oratorio by multi-Grammy Award recipient Mervyn Warren. But some selections explored the irresistible power and variety of the ever-evolving gospel tradition through lesser-known works.
Accompanied solely by percussion, a radiant Singleton led the choir in "Hlonolofatsa," a South African chant. As he simultaneously sang and danced with widening arms and legs and swaying torso, the choir followed him, their voices and bodies moving in unison.
Other thrilling performances included the choir's rendering of "Go Tell It," pop artist Kirk Franklin's jazz-inflected version of "Go Tell It on the Mountain," the classic spiritual composed by John Wesley Work, Jr. during the Civil War. Led by the sensational Fair, with Patterson on the piano, the chorus and powerful soloists Sayida Farmer-Rivers and Val Harris-Alleyne reveled in the pulsing repetitions of
"Tell it/tell it," and the scat-like elongation of vowels when singing the name of Jesus.
The evening's guest artists, the Dana Hall School Chamber Singers, came to the stage and, accompanied on piano by their teacher, Herb Jones, sang a tender rendering of the hymn "Mary, Did You Know?" They remained on stage to join the choir in the finale, the Hallelujah Chorus. Conducting the singers with his arms, hands, legs and feet, Patterson showed how gospel music engages not just the voice but the whole person, and draws individuals into both expressing themselves, and, with others, moving as one.