Dudley restaurant revival
Local restaurateurs bringing new concepts to Dudley Square
Yawu Miller | 12/20/2017, 10:40 a.m.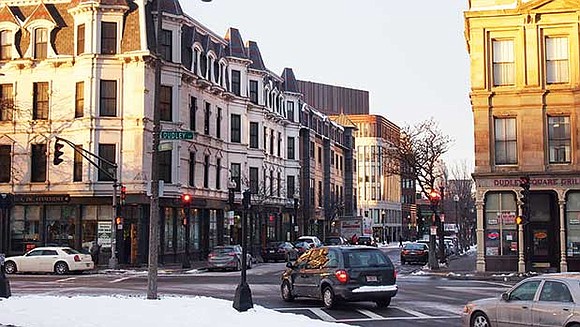 Pinkney said the menu will feature rotating specials at night.
"It won't be soul food, not heavy food, but enough to fill your belly," he said. »
Ethiopian flavor
At the corner of Shawmut Avenue and Malcolm X Boulevard, restaurateur Befekadu Defar is planning to open a coffee shop with healthy lunch foods, including vegetarian and vegan options, sandwiches and salads.
Defar started in the restaurant business with a Jamaica Plain eatery called Fasika. Fourteen years ago, he moved his restaurant to Somerville. While he plans to keep that restaurant open, he says he had always wanted to come back to Boston.
"I see a future in Dudley," he said. "It's one of the most rapidly changing districts. It has great potential."
A major draw to his restaurant will be fresh roasted Ethiopian coffee.
"We use the best Ethiopian coffees, which are known for their flavor," he said. "We get them directly from Ethiopia. We will roast and grind the coffee there." »
A new Dudley?
Stanley says the new restaurant offerings will help bring more vibrancy and, importantly, more foot traffic to the business district. The live music at the large restaurant space will add to the growing number of cultural offerings in the district.
"There's a lot going on," Stanley said, referring to live music and art exhibits at the Haley House Bakery Café and plays, musical performances and other cultural events at Hibernian. "There's just not a lot of coordination."
Stanley said coordinating a schedule of cultural events in the Dudley Square area and creating a web page to promote them are important next steps for the Roxbury Cultural District, a group representing the area's artistic and cultural sites. The Cultural District, which includes Dudley and Eliot Squares, was designated by the Massachusetts Cultural Council earlier this year and is intended to highlight Roxbury's cultural assets and boost tourism and economic activity.
"We have the pieces of a really good cultural district here," Stanley said. n