Parents flood School Committee meeting, urge rollback of start time change
Karen Morales | 12/14/2017, 11:31 a.m.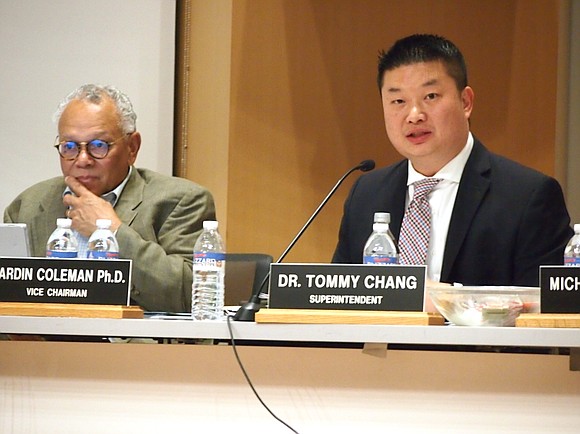 "If we added this constraint [no schools starting before 7:30 a.m.] many more elementary school students would continue to dismiss after 4 p.m. and many high schools would begin before 8 a.m. — factors that we are trying to avoid in the new policy," the website reads. "This constraint would also lead to about $5-7 million more in costs than the model for start times which was chosen for the district, thereby reducing significantly the potential for reinvesting in schools."
The school committee further defended the policy with research that shows the new school times are more aligned with biological needs.
In order to implement later start times for high school students, which various studies from the American Academy of Pediatrics, American Academy of Sleep Medicine, Center for Disease Control, and Scientific American suggests are more beneficial for development and learning, the school committee decided to push up start times for elementary students to accommodate the narrow window of start times and transportation constraints.
The committee cites a report by Hanover Research that suggests that elementary-aged students have the same degree of focus at 7:00 a.m. as adolescents do at 8:00 a.m.
"There is research that shows that elementary students are not as affected by earlier start times than secondary students," said Chang.
"Although, I want to acknowledge that this research is less extensive than research on adolescents," he said as the crowd hissed and booed.
At-large City Councilor Anissa Essaibi George said that she had supported and advocated for later start times for high school students and younger students leaving school before dark, "but not at lunchtime."
"This does not translate into good action," she said. "It allows transportation constraints to dictate policy."
Essaibi George and councilors Ayanna Pressley, Matt O'Malley, Tito Jackson and Michelle Wu stated their opposition to the plan in a letter to the School Committee.
Mayor Martin Walsh stood behind the school department's proposed changes during a Wednesday morning press conference.
"Start times and grade configurations are two things that will make a tremendous positive impact in our district," he said, quoted in the Boston Globe.
During public comments however, parents argued that the earlier start time and earlier dismissal would greatly affect not only their children but the whole family.
A mother of BPS students, Gisel Pena told the committee that the new policy would incur additional after-school costs, and decrease quality family time together.
"There will barely be anytime together as a family since have to go to bed so early to get enough sleep and wake up at 6 a.m.," she said. "The superintendent is out of touch with what families need."
Antonia Rodriguez, a mother of six BPS kids, also said that she would not be able to afford after-school care if her children have to leave school by 1:15 p.m. and she does not leave work until the 5 or 6 p.m.
Audrey Martinez, a research educator and parent, said that she doesn't want to leave her kindergarten student in school and after-school care for almost 11 hours of the day.
With such an early start time, and a child's need to sleep at least 10 to 12 hours, it gives significantly less time to do homework in the evening, said Martinez.
School Committee member Jeri Robinson said, "It's not possible that 100 percent of people will be happy. There will be people who will have to make adjustments."
"This policy is sound, I would vote for it again," said School Committee member Miren Uriarte among sounds of protest from the crowd. "This is about equity."
School Committee member Michael Loconto said, "The district will be better because of it."