Fitness is her business
CrossFit coach puts passion for athletics into W. Rox. gym
Karen Morales | 12/13/2017, 11:01 a.m.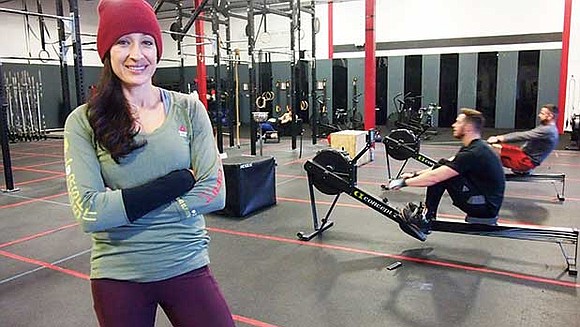 She continued, "Doing sports in high school and college gave me the values of hard work, ethics, loyalty, perseverance and grit. I wanted to apply these values in a program for kids."
But the new CrossFit affiliate owner still wasn't ready to open her own venture, so she trained with CrossFit Boston for another three years under Neal Thompson, whose CrossFit gym was the first in New England.
In 2014, Ramos decided that if she was going to launch a nonprofit program for teens, she first had to establish a community by opening her own CrossFit gym.
Each owner is really unique in how they run their gym and form their following and customer base, said Ramos.
"I wanted to do something on my own, and if I failed — it would be my most epic failure," she said.

Giving back
With an established gym, Ramos has been able to lay the groundwork for Boston Iron Kids Club through an annual event called BEAT The Streets.

The event is a fundraiser and adult CrossFit competition. The most recent one was held at the Reggie Lewis Track and Athletic Center the weekend before Thanksgiving.
Through sponsorship donations, the participating athletes raised $14,000 in the fifth and most successful BEAT The Streets competition yet.
The funds go towards sub-
sidizing CrossFit classes for underserved youth, sending CrossFit kids to leadership camps over the summer, and operating Boston Iron Kids Club.
The initiative runs under the 3 Point Foundation, run by Boston Celtics lawyer Neil Jacobs and supported by the Shamrock Foundation. The CrossFit program includes an academic mathematics component in partnership with the 3 Point Foundation and a character building element in partnership with UMass Boston professors.
Running both the gym business and the nonprofit, Ramos's workday starts at 4:30 a.m. Most of her time at the gym is spent privately training everyone new that walks into Iron & Grit, and teaching classes on Wednesday mornings.
She also spends time connecting with possible donors and meeting with potential partners for Boston Iron Kids Club.
She said, "Five years from now, I'm hoping it can become a sustainable program."