Fitness is her business
CrossFit coach puts passion for athletics into W. Rox. gym
Karen Morales | 12/13/2017, 11:01 a.m.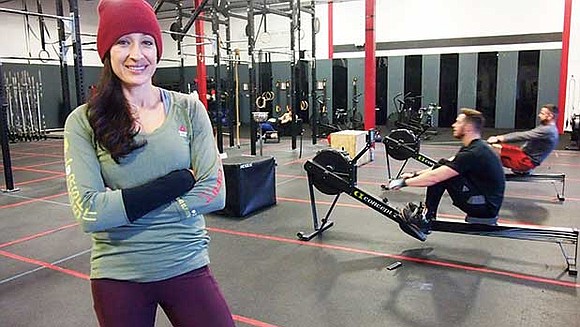 In the three years since Tina Ramos developed and opened CrossFit Boston Iron & Grit gym in West Roxbury, she has successfully created a community of like-minded athletes and mentors who enjoy coaching others, especially Boston's youth, in CrossFit training.
If you go
what: CrossFit Boston Iron & Grit
where: 1230 VFW Pkwy, West Roxbury
hours: Monday, Wednesday-Friday 5 a.m.-8 p.m.; Saturday-Sunday 8 a.m.-1 p.m.
phone: (617) 935-2902
on the web: www.crossfitbostonirongrit.com
But in the weeks before the gym opened, she doubted she had what it took to launch the venture. Surveying the empty shell of the warehouse space where she had planned her buildout, she saw the words "No way out!" spray painted on a cinderblock wall.
Ramos went all in.
"I mostly ended up going into my savings because I didn't want huge loans," she said. "It was pretty scary."
Ramos opened CrossFit Boston Iron & Grit in March 2015 after a year of working to secure a lease, organize her finances, write a business plan, buy equipment and build a website.
Today, Iron & Grit has six coaches and one dietician on staff. The gym offers shower facilities, complimentary towel service and a retail store. The coaches had to go through a six-week training and shadowing process during which Ramos determined whether or not they would be a good fit.
"I wanted a coaching staff who could work with a diverse population," she said. "Someone who can work with someone in their 60s or 20s. I hired coaches who love their job and love helping people. My staff are incredibly giving people."
Her gym has a small locker room, men's and women's bathrooms and an office. The centerpiece is a 12-foot high, 30-foot long exercise structure used for pull-ups and other exercises that Ramos and her gym members assembled and bolted to the gym's concrete floor.
Her nonprofit organization, Boston Iron Kids Club, enrolls CrossFit affiliate owners to work with at-risk youth on athletics and academics.
These days, Ramos betrays none of the self-doubt she experienced before the buildout as she coaches her muscle-bound clients through their grueling, hour-long workouts.
An athletic life
A Nebraska native, Ramos earned her master's in education at Harvard University and started her career working with teens and coaching a girls' basketball team.
"People would always ask me for advice on how to train and get in shape," she said. "I knew I wanted to somehow combine my love of fitness and working with youth."
Her vision for a business and an athletic nonprofit organization for teens became clearer when she was introduced to CrossFit.
CrossFit is a branded fitness regimen whose members train mostly without machines, using techniques from high-intensity interval training, powerlifting, calisthenics and other disciplines. Ramos' gym is one of more than 13,000 licensed around the world.
"Having a base of members and supporters was important to me, and CrossFit builds community — that's why people keep coming back to it," said Ramos.
She received her CrossFit level one certificate in 2010, which allowed her to teach others, and then became an affiliate owner in 2011. Becoming an affiliate gives individuals authorization to open their own CrossFit brick-and-mortar gym. To earn her affiliation, Ramos had to write an essay. "I wrote about growing up in a really poor family but having sports as the backbone of everything I've done," she said.