UMass Boston staff protest layoffs
Demand relief for cash-strapped campus
Karen Morales | 12/6/2017, 10:21 a.m.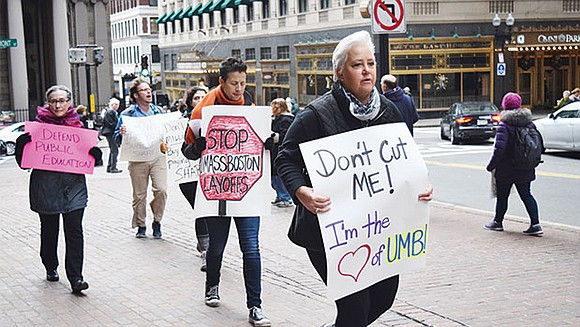 According to Argyres, the root of UMass Boston's financial standing is "brushed under the rug," by the administration.
"The school has a unique situation with the original foundation of the school campus," she said. "That is, the entire foundation of the campus needs to be rebuilt."
The reconstruction was expected to cost $1 billion. UMass Boston invested $500 million for the project but the State only stepped in for $125 million.
"It's a form of privatization because the state is not bearing the burden of the unique capital investment that needs to happen at UMass Boston," said Argyres. "It goes beyond modernizing buildings or adding a new dorm."
According to UMass President Marty Meehan, the school took money from its own reserve fund to offset a negative $3 million balance in the budget during fiscal year 2017.

"We look to the campuses to build their own reserves and balance their budgets," he said at the Board of Trustees meeting.

But the fundamental disagreement between the board and activists is that although UMass Boston has dipped into its own campus reserve fund, there is still the untouched $96 million central reserve fund controlled by the President's Office.
The board did not respond to the question of utilizing the UMass central reserve fund during the staff union and student demonstration at the Board of Trustees meeting last Wednesday, nor was it mentioned in a statement from UMass Boston sent later on that day.
Past mistakes
Instead the statement read, "Projections released today indicate that the steps that have been taken over the past year will result in the campus achieving its goal, with UMB's operating margin trending positive over the next five years and reaching two percent in FY 2023."
"Why is the president's office sitting on these central reserves?" said Argyres. "Why are we operating like a private organization that needs to amass wealth?"
"My peers and I are being forced to pay for the mistakes and shortcomings of those that came before us," said Blanco in a prepared statement at the Board of Trustees meeting. "We cannot blame the current state of our institution merely on mismanagement while ignoring the historical issues that have gotten us here."
"From shoddy and illegal construction practices, all the way to the treatment of our institution, as if we have the same barriers as other schools, given the unique demographics and socioeconomic makeup of our student body," he said.
Walker, in her statement, said, "UMass Boston is unique in the UMass system in terms of race and class dynamics as well as its status as a commuter school. Please recognize that UMB is not a private institution, it doesn't serve the demographics that private institutions serve and it cannot be run like one."